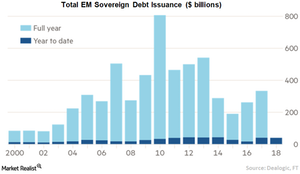 Emerging Markets Offer Attractive Opportunities
By VanEck

Mar. 29 2018, Updated 12:05 p.m. ET
VanEck
Emerging Markets Attraction
As interest rates in the U.S. and Europe normalize, emerging markets debt can provide investors with portfolio holdings that are not part of that interest rate dynamic. For investors, a key issue with local currency debt is their view on the U.S. dollar. We lean bearish, though if global growth continues, dollar strength would be less of a concern.
On the emerging markets equities side, we think there is still room to run as cash flow for emerging markets stocks continues to grow. After several years of underperformance, investors may still be under allocated to emerging markets equities. As the turnaround in this asset class continues, we expect this to change.
Article continues below advertisement
Market Realist
Stellar performance by EM debt
Emerging market bonds (EMB) provide diversification benefits compared to traditional stock and bond portfolios. The local currency EM bonds (EMLC) provide two advantages.
While higher local interest rates relative to the US markets lead to higher bond yields, local currency fluctuation against the US dollar could also significantly contribute to total bond returns.
Over the past decade, EM (emerging market) debt has delivered stellar returns compared to other fixed income categories, with the exception of high yields. For example, Morningstar's emerging markets bond fund categories posted annualized ten-year returns of 6.3% compared to 3.7% by Morningstar's intermediate-term bond category. As a result, supply and demand for EM sovereign debts have been robust in recent years.
EM equities offer attractive bets
EM equities (VWO) also offer attractive investment avenues to investors, which is particularly true in view of the recent volatility in developed markets. EM stocks (IEMG) are driven by a rebound in earnings growth, lower volatility, increase in capital flows, and cheap valuations compared to developed markets.
For example, the MSCI Emerging Markets Index, which captures large and mid-cap companies across 24 emerging markets, is currently trading at a one-year forward PE (price-to-earnings) multiple of 12.4x.
In contrast, the MSCI ACWI Index, which comprises 23 developed markets and 24 emerging markets, is trading at 15.5x. The MSCI World Index, which comprises companies across 23 developed markets, is trading at a one-year forward PE multiple of 16.0x.
On a PBV (price-to-book-value) basis, emerging markets (EEM) are cheaper at ~1.8x compared to ~2.3x for the MSCI ACWI Index and 2.4x for the MSCI World Index.