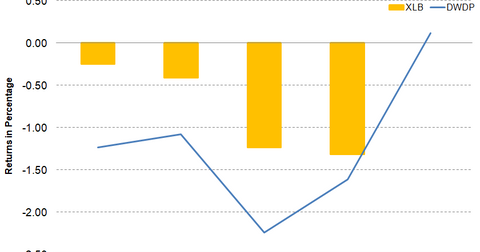 DowDuPont: Materials Science Company's Senior Leadership
By Peter Neil

Mar. 19 2018, Published 8:33 a.m. ET
DowDuPont announced leadership for Material Science
On March 12, 2018, DowDuPont (DWDP) announced the leadership roles for the Materials Science Company. The Materials Science Company will be called "Dow" once the intended spin-off takes place. Jim Fitterling, the chief operating officer of DowDuPont's Materials Science division and president and COO of the Dow Chemical Company, will be the new company's CEO.
The committee appointed Howard Ungerleider as Dow's president and CFO when the new company is formed. Currently, Ungerleider is DowDuPont's CFO. He's also the vice chairman and CFO for the Dow Chemical Company. Fitterling and Ungerleider will continue in their current roles until the new company is formed, which could be in 1Q19.
Article continues below advertisement
Andrew N. Liveris, DowDuPont's executive chairman, said, "Jim and Howard have been valued members of Dow's and my most senior leadership team and have each played a pivotal role in developing and executing Dow's market-driven strategy. Working side-by-side with both individuals over the last number of years, I have seen first-hand their unrivaled knowledge of our business and industry, unparalleled understanding of our customer's needs, and commitment to fostering an innovative, collaborative and inclusive culture for our people. I am proud of both of them as leaders and as representatives of Dow's values."
DowDuPont's stock price update
Continued volatility in the stock market caused DowDupont stock to decline 5.9%. The stock closed at $67.96 for the week ending March 16, 2018. The decline pushed the stock to trade 5.5% below the 100-day moving average price of $71.88. On a year-to-date basis, the stock has declined 4.6%. In comparison, Eastman Chemical (EMN), Westlake Chemical (WLK), and Monsanto (MON) have gained 16.4%, 8.8%, and 0.9%, respectively.
DowDuPont's negative sentiment has gone up since the beginning of 2018. However, DowDuPont's 14-day relative strength index of 40 indicates that the stock isn't overbought or oversold.
Investors could hold DowDuPont indirectly by investing in the Materials Select Sector SPDR Fund (XLB). XLB has invested 22.1% of its holdings in DowDuPont as of March 16, 2018.