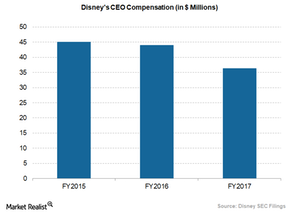 Disney Shareholders Voted Against This CEO Compensation Package
By Sophia Nicholson

Mar. 23 2018, Updated 10:31 a.m. ET
Disney shareholders rejected CEO compensation
The shareholders of the Walt Disney Company (DIS) are not in favor of rewarding the company's CEO with a compensation plan and equity grants. Most of Disney's shareholders rejected an executive compensation proposal during the company's annual shareholder meeting on March 8, 2018.
During the meeting, ~52% of shareholders voted against the notion of Disney providing a new pay package for CEO Robert Iger, while 44% of shareholders voted in favor. However, 4% withdrew from voting on the compensation package.
Article continues below advertisement
Disney's compensation plan 
The compensation plan was related to Disney's purchase deal with 21st Century Fox's (FOXA) and meeting performance-related goals. Disney inked an acquisition deal in December 2017 to purchase most of Fox's film and TV assets for $52.4 billion. The agreement led the company to extend Iger's contract through 2021 when it had previously been set to end in July 2019.
The Fox acquisition is currently facing hurdles from Comcast's (CMCSA) surprise bid for Britain's Sky, one of the other assets Disney hoped to acquire.
As per the compensation plan, the company will pay Iger up to $48.5 million annually for four years (from 2018 to 2021) if Disney's deal with Fox goes through. In addition, in 2021, Disney will pay an equity grant worth ~$100 million to Iger in addition to salary and bonuses. In 2017, Iger's compensation was $36.3 million.
Shareholders against compensation
The huge compensation payments to Iger are a cause for concern for a majority of shareholders. ISS Analytics stated in its January report that Iger's leadership during the megamerger is critical, but the compensation package is too high—especially the equity grant of $100 million.
However, according to compensation committee members, Iger has significantly increased Disney's shareholder returns and the company's market cap during his tenure.
According to the Wall Street Journal citing Overture Group, Disney is expected to cut Iger's equity award following shareholders' rejection of the executive compensation plan.