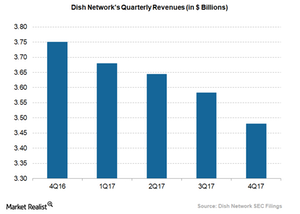 Dish Network's Declining Revenue Trend in 2017
Dish's revenue trend
Dish Network's (DISH) revenues have disappointed in 2017 overall, and its revenues declined in each quarter of 2017. In 4Q17, revenues reached ~$3.5 billion, down 7.2% YoY (year-over-year) from 4Q16. Its revenues also declined from $15.2 billion in 2016 to $14.4 billion in 2017.
Article continues below advertisement
Reasons for the revenue decline
Dish Network (DISH) has been facing increased pressure from a continuous decline in subscriber-related revenues. In 2017, subscriber-related revenues declined 5.1% to $14.3 billion. The company's pay-TV subscribers fell by 121,000 in 4Q17 and by more than 400,000 in 2017 over the previous year. The company ended 2017 with 13.2 million subscribers.
Declining subscribers at traditional cable service Dish TV have been leading to overall pay-TV subscriber losses. In 2017, the company reached just above 11.0 million Dish TV subscribers.
Unlike big telecom players such as AT&T (T) and Verizon (VZ), Dish Network has declined to adopt lucrative bundled deals. These deals include triple-play and quadruple-play services at attractive prices. However, the growth of Sling TV has also slowed down in 2017.
The growing shift from traditional cable service to low-cost video streaming services, known as cord-cutting, has taken a toll on pay-TV providers. Customers have been shifting to watching videos and sports online due to cost considerations.
Netflix (NFLX) and Amazon (AMZN) are the leading players among the online streaming service providers. The availability of high-speed Internet services has also changed consumers' viewing habits, leading to cord-cutting.