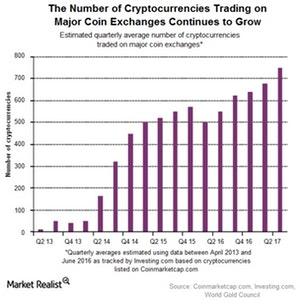 Is Cryptocurrency Competition for Gold?
By World Gold Council

Mar. 2 2018, Updated 9:02 a.m. ET
World Gold Council
Competitors…
Despite anecdotal comments from well-regarded financial commentators that gold prices and gold demand are suffering at the expense of cryptocurrencies, there isn't any quantifiable evidence that gold holdings are directly suffering from competition from cryptocurrencies. The weakness in physical demand in 2017 – for example, the paltry sales of US Eagles – is largely explained by the steady march higher of the S&P 500. Other established gold markets – such as China – saw healthy levels of demand. Overall, the level of the gold price in 2017 appears to be consistent with drivers of the past few years and is showing no signs of suffering from crypto-competition.
Article continues below advertisement
 Another factor to consider is competition within cryptocurrencies themselves. There are currently over 1,400 cryptocurrencies available (See chart below) and, while bitcoin is the largest by far, new technology could have devastating effects on the value and supply of any of the cryptocurrencies, including bitcoin.
Market Realist
Drivers of gold demand
The sudden surge in bitcoin and the cryptocurrency market made some market participants worry about the future of gold. Some believed cryptocurrency could give gold tough competition and lead to a decrease in the demand for gold. The demand for gold, however, seems unaffected by these factors. Market distress typically raises gold's demand since it has proved itself as a safe-haven asset.
Geopolitical tensions and a slight stir in the equity market usually spurs the demand for gold and boosts its price. Gold (DGL) also has an inverse relationship with the dollar (UUP), so a declining dollar typically benefits gold (GLD). Other main drivers of gold are supply dynamics, central bank policies, interest rates, and others, as shown in the chart below.