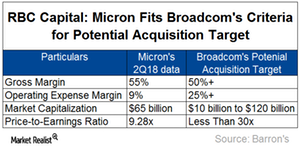 Could Micron Acquire or Be Acquired in 2018?
Mergers and acquisitions
As Micron Technology (MU) is in the midst of strong growth, many analysts are curious if the company's new management has included M&A (mergers and acquisitions) in its growth strategy. At the Morgan Stanley Technology, Media & Telecom Conference in February 2018, Micron chief business officer Sumit Sadana stated that the company's main focus is to improve its investment returns and deliver shareholder value in the long term. If this requires M&A, the company might consider acquiring a company.
In December 2016, Micron acquired Inotera, its DRAM (dynamic random access memory) joint venture with Nanya Technologies. This acquisition proved fruitful to Micron, with the complete ownership of DRAM production reducing costs and improving margins.
Article continues below advertisement
Is there scope for further consolidation in the memory market?
The memory market is already consolidated. The latest acquisition was that of Toshiba's (TOSBF) nonvolatile memory business by a Bain Capital-led consortium including rival SK Hynix and customers such as Apple and Dell. Micron could probably acquire small DRAM makers such as Winbond, Nanya, or Powerchip to boost its DRAM capacity. It may be better to acquire capacity than build it, which involves significant investments.
As Micron is now being managed by SanDisk's former management, the company may move ahead in the supply chain and instead acquire a customer. In December 2016, when Micron acquired Inotera, TheStreet co-founder Jim Cramer stated that Advanced Micro Devices (AMD) could be a potential target for Micron, reducing Micron's exposure to mobile and increasing its exposure to other markets.
Could Micron be an acquisition target?
Some analysts believe that Micron itself could become an acquisition target. Over the last few months, the tech industry witnessed an attempted hostile takeover of Qualcomm (QCOM) by Broadcom (AVGO). However, this deal was rejected by the Trump administration. Analysts believe that Broadcom is still keen on acquiring a company, though not necessarily Broadcom.
According to StreetInsider, KeyBanc analyst John Vinh believes that Broadcom could look to acquire Micron, considering that Broadcom bid on Toshiba's memory business. RBC Capital Markets analyst Amit Daryanani also identified Micron as a potential acquisition target for Broadcom, according to Barron's. He shortlisted 30 tech companies, including Micron, Xilinx (XLNX), and KLA-Tencor (KLAC), as potential acquisition targets. He based the list on four parameters that Broadcom CEO Hock Tan generally looks for in a potential acquisition. These parameters are a $10 billion–$120 billion market capitalization, a gross margin over 50%, operating expenses over 25%, and a price-to-earnings ratio of less than 30x.
However, US authorities may not let Broadcom acquire Micron, as Micron is the only US-based DRAM manufacturer and DRAM is a key component in military and defense.