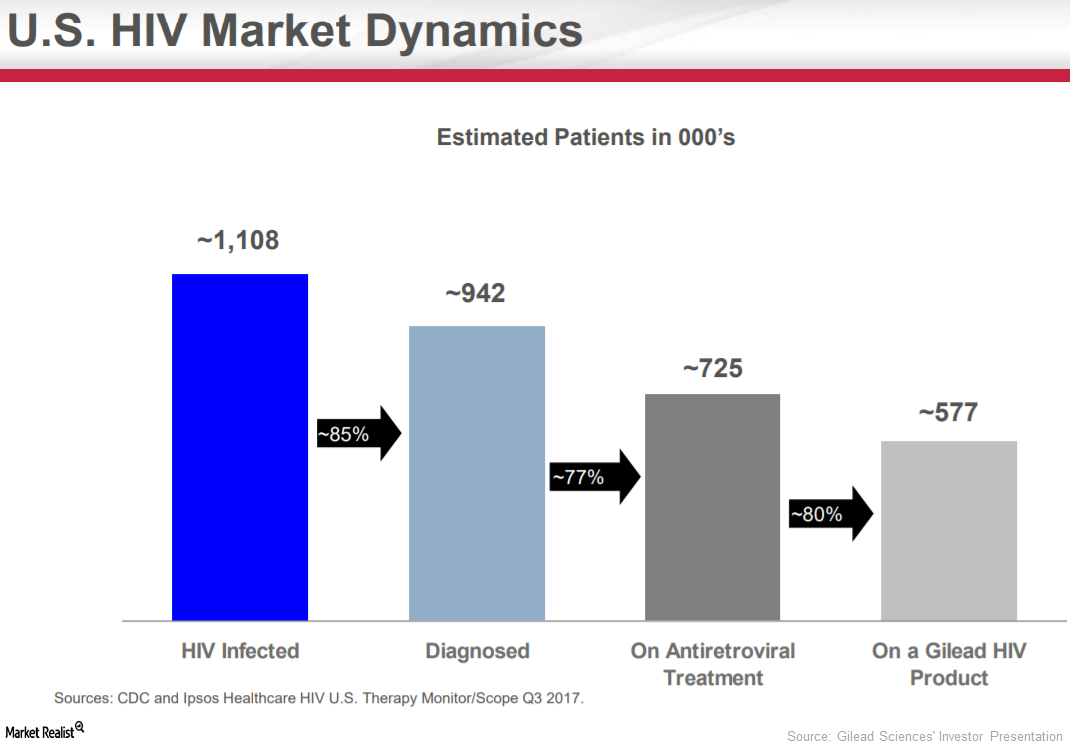 Could Gilead Sciences' Biktarvy Witness Solid Growth in 2018?
By Daniel Collins

Dec. 4 2020, Updated 10:53 a.m. ET
Biktarvy approval
In February 2018, the US FDA (Food and Drug Administration) approved Gilead Sciences' (GILD) Biktarvy for the treatment of individuals with HIV-1 infection. Biktarvy received US FDA approval based on the results of the phase three trials 1489 and 1490. Gilead Sciences' press release on February 7, 2018, said, "In phase 3 1489 trial, at Week 48, 92.4% of patients taking Biktarvy and 93.0% of patients taking abacavir/dolutegravir/lamivudine (600/50/300mg) (ABC/DTG/3TC) achieved the primary endpoint of HIV-1 RNA Biktarvy approved by the U.S. FDA."
Article continues below advertisement
In March 2018, Gilead Sciences announced the results of its phase three 1961 trial where Biktarvy demonstrated non-inferiority compared to regimens containing boosted protease inhibitors like elvitegravir. Gilead Sciences conducted the phase three 1961 trial to evaluate the safety and efficacy in switching from boosted protease inhibitors to a Biktarvy once daily regimen in virologically suppressed adult women with HIV.
Presently, Biktarvy's marketing authorization application to the European Medicines Agency is under review. In the multiclass combination HIV drugs market, Biktarvy will compete with Triumeq and Juluca, both commercialized by ViiV Healthcare, a joint venture of Pfizer (PFE) and GlaxoSmithKline (GSK) for the development of HIV drugs.
HIV prevalence
According to the US Center for Disease Control and Prevention (or CDC), 39,782 individuals were diagnosed with HIV in 2016. The US CDC also notes that from 2010 to 2014, in the US, the estimated number of annual infections decreased by 10%.
According to UNAIDS (United Nations program on HIV/AIDS), in June 2017, around 20.9 million individuals were accessing antiretroviral therapy. In 2016, worldwide, ~36.7 million individuals were living with HIV.
Gilead Sciences estimated that among the 725,000 individuals in the US who are on antiretroviral therapy, ~577,000 individuals are on the company's HIV products.