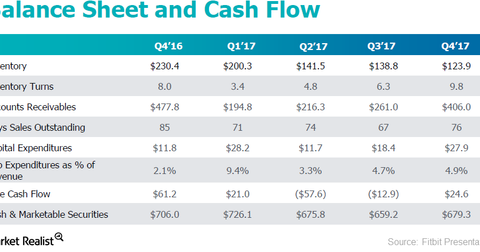 Could Fitbit's Profit Margin Improve in Fiscal 2018?
By Adam Rogers

Updated
Gross margin was 44.2% in 4Q17
Fitbit (FIT) needs to improve its profit margins and drive operational efficiency to offset declining device sales. Fitbit reduced its inventory by 46% YoY (year-over-year) in 4Q17 to $123.9 million, compared with $230.4 million in 4Q16.
As shown in the above table, Fitbit has considerably reduced inventory in each of the last four quarters. Fitbit aims to enhance the quality of its products and improve defective parts per million by 42% in 2017, which could not only improve brand perception but also reduce the company's warranty costs and customer contact rates.
Article continues below advertisement
In 2017, the company's gross margin benefited from lower warranty costs, improved forecasting accuracy as well as reducing the firm's exposure to excess and obsolete inventory. According to Fitbit CFO (chief financial officer) William Zerella, "Gross margin in the quarter was 44.2% benefiting from the skew towards connected health and fitness trackers partially offset by greater promotional activity. For the full year gross margin was 43.4%, up 410 basis points."
Research and development expenses
Fitbit's R&D (research and development) expenses rose 6.5% YoY (year-over-year) in 4Q17 to over $9 million, as the company continued to focus on business transformation. R&D expenditure is important for consumer technology companies such as Garmin (GRMN), GoPro (GPRO), Fossil (FOSL), and Samsung (SSNLF), as they need to constantly launch products to suit consumers' changing tastes.
In fiscal 2017, Fitbit's operating costs fell 700 basis points to $797 million, missing its target of $850 million. While Fitbit generated operating income of $8 million and other income of $4 million 4Q17, it was offset by a tax provision of $70 million, resulting in a net loss of $0.02 per share.
Fitbit has built overseas facilities and is targeting revenue growth in international markets, which is expected to drive international revenue and lower costs for Fitbit. Investors will be watching closely to see if Fitbit can return to non-GAAP (generally accepted accounting principles) profitability. Fitbit will also need to launch new products this year to stem the decline in its device sales. Its products need to be appropriately priced to attract customers and ensure profitability.