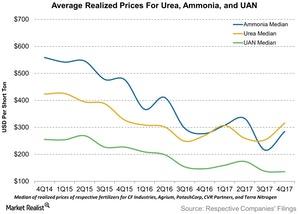 Comparing Producers' Nitrogen Fertilizer Realized Prices in 4Q17
By Adam Jones

Mar. 7 2018, Updated 7:33 a.m. ET
Realized prices
For years, nitrogen prices have been trending lower, but in 4Q17, ammonia, urea, and UAN (urea ammonium nitrate) realized prices finally improved.
Article continues below advertisement
Prices improve
In the above chart, we've calculated the average realized prices of nitrogen fertilizers (MXI). Where necessary, we have converted from metric tons to short tons for comparability.
Ammonia prices in 4Q17 rose 3% year-over-year to an average of $285 per short ton, and urea prices jumped 17% over the same period to $316 per short ton. While UAN prices fell 7% year-over-year to $136 per short ton, it was better than the 35% year-over-year decline in the same quarter last year.
Realized prices by company
PotashCorp (POT) (NTR) saw urea prices rise as much as 27% year-over-year to $298 per short ton, and CF Industries' (CF) ammonia prices rose 3% to $285 per short ton. Ammonia prices for these companies were higher as a result of lower exports from China, which bumped up the global price levels.
The other three companies, Agrium (AGU), Terra Nitrogen (TNH), and CVR Partners (UAN), experienced a year-over-year decline in realized prices for ammonia. Agrium stated that its prices declined due to contractual obligations, timing, and forward sales activity.
Urea prices for PotashCorp increased by 18% year-over-year. For CF, it increased 14%, and for Agrium, prices increased 5% over the same period. Lower urea exports from China have been driving prices higher.
UAN prices for CF Industries and Terra Nitrogen were broadly higher by 1% and 7% year-over-year, respectively. CVR Partners experienced a 10% decline in year-over-year prices during the quarter.
Next, we'll sum up the nitrogen segment by comparing gross margins of the above five companies.