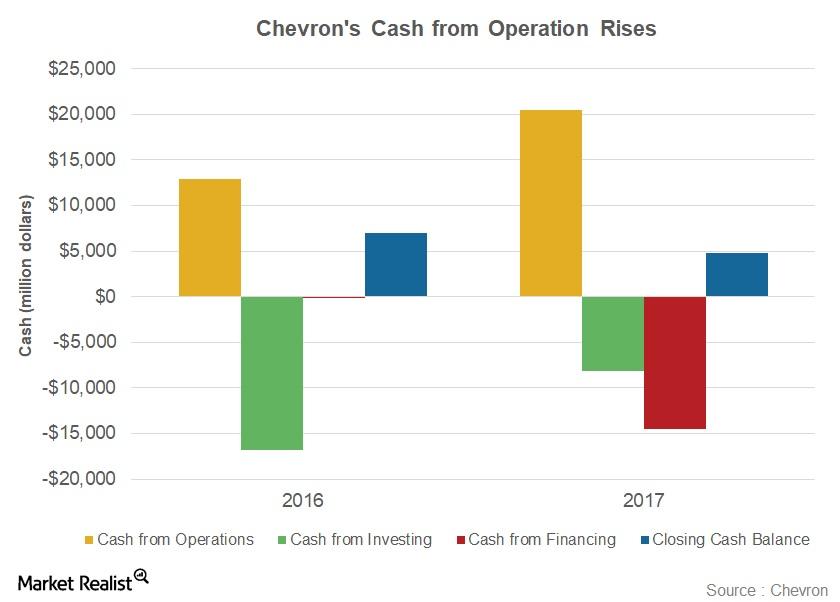 Chevron's Cash Flow Shortfall: The Silver Lining
By Maitali Ramkumar

Mar. 5 2018, Updated 3:45 p.m. ET
Chevron's cash flow
In 2017, Chevron's (CVX) cash flow from operations stood at $20.5 billion, rising from $12.8 billion in 2016. CVX's cash outflow from investing stood at $8.2 billion in 2017, compared to $16.9 billion investing outflows in 2016. However, cash outflows from financing stood at $14.5 billion due to net debt outflows and dividend outflows in 2017.
Article continues below advertisement
Chevron's cash flow shortfall
In 2017, Chevron generated $20.5 billion in cash from operations but had a cash outflow of $13.4 billion in the form of capital expenditure and $8.1 billion in the form of dividends, amounting to a total $21.5 billion in cash outflow. So how did CVX make up for the difference of $1.0 billion in cash flows?
A silver lining
Chevron funded the gap via divestment proceeds of $5.2 billion. Plus, Chevron used its cash reserve. Chevron's cash balance fell from $7.0 billion at the beginning of 2017 to $4.8 billion at the end of 2017. In fact, Chevron could also repay around $7.5 billion in debt (net including long-term and short-term) in 2017—a positive sign.
We also estimated CVX's CFO as a percentage of total revenues to compare with peers. Chevron has seen the highest CFO-to-revenue ratio compared to ExxonMobil (XOM), Royal Dutch Shell (RDS.A), and BP (BP). CVX's ratio stood at 14% in 2017. Chevron's strict financial discipline could be an essential factor contributing to this ratio. However, BP recorded the lowest ratio of 8% in 2017. ExxonMobil's cash flow-to-revenues ratio stood at 12% in 2017. Shell has a lower ratio, at 11% in 2017.
So, what do Chevron's cash flows imply?
Chevron's debt repayment implies that the company intends to keep its debt level under check, reflecting its focus on strong financials.
Plus, with better oil prices and major projects coming online, higher production (from robust upstream portfolio) would likely result in enhanced revenues and earnings, leading to better cash flow from operations in the near future.