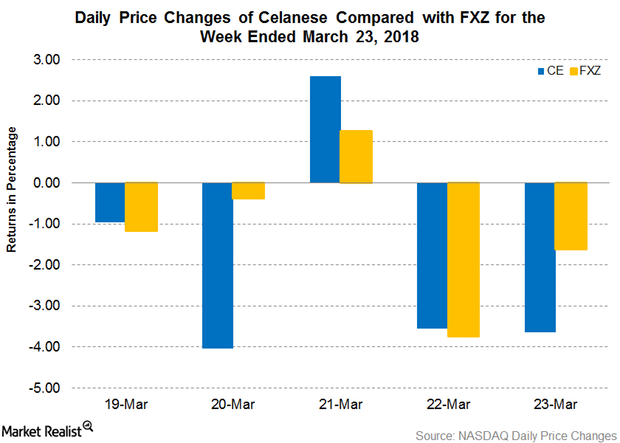 Celanese and Blackstone End Their Joint Venture
By Peter Neil

Mar. 26 2018, Published 8:08 a.m. ET
Celanese and Blackstone joint venture called off
On March 19, 2018, Celanese (CE) announced that it called off the joint venture with Blackstone (BX) to form a new acetate tow supplier. Celanese cited that both of the parties couldn't reach an agreement on acceptable conditions with the European Commission. The joint venture, which was announced on June 18, 2017, would have combined Celanese's Cellulose Derivatives business with Blackstone's Rhodia Acetow to form synergies in the acetate tow market.
Article continues below advertisement
Mark Rohr, Celanese's chairman and CEO, said, "We are disappointed with the approach that the European Commission has taken on this case, and we will be reviewing our strategic options. Celanese will continue to meet customer current and evolving needs efficiently while providing the highest level of quality and service."
In another development, Celanese increased the price of Vinyl Acetate Monomer by 200 renminbi per metric ton in China and $50 per metric ton in Asia outside China. The price increase is effective immediately or as the contract allows.
Update on Celanese's stock price
Celanese investors weren't happy about the news. Celanese declined 9.4% and closed at $96.72. The stock fell below its 100-day moving average price of $106.0. The downward trend could continue. Celanese's 14-day relative strength index of 32 indicates that it's getting closer to moving into an "oversold" position. On a year-to-date basis, the stock has declined 9.7%. In comparison, Westlake Chemical (WLK) and Eastman Chemical (EMN) have gained 5.7% and 11.0%, respectively.
Investors could hold Celanese indirectly by investing in the First Trust Materials AlphaDEX Fund (FXZ). FXZ has invested 1.9% of its portfolio in Celanese as of March 23, 2018.