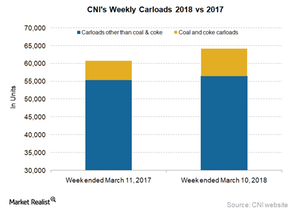 Canadian National Railway's Volumes Pushed by Intermodal
Canadian National Railway: Carloads in Week 10
Canada's largest freight rail carrier, Canadian National Railway (CNI), reported a 5.7% gain in carload traffic in the week ended March 10, 2018, or Week 10. That week, CNI's railcars excluding intermodal units grew to ~64,200 units from ~60,700 units in the week ended March 11, 2017. Compared with rival Canadian Pacific Railway's (CP) 4.1% growth in carloads, CNI registered a higher gain in the reported week. CNI's carload growth was somewhat lower than the volume gains reported by US and Canadian railroads.
Article continues below advertisement
The share of carloads excluding coal and coke was 88% in total carloads, whereas coal and coke carloads were 12% in Week 10 of 2018. In the corresponding week last year, the shares were 91.1% and 8.9%, respectively. Carloads excluding coal and coke rose 2.1% to ~56,500 units from 55,300 units in Week 10 of 2017. It saw a huge rise in its coal and coke carloads, which increased 42.4% to ~7,700 units in 2018 from ~5,400 units last year.
Changes in carload commodity groups
The following carload commodity groups reported higher shipments in Week 10 of 2018:
chemicals
petroleum products
farm products
grain
grain mill products
These commodity groups registered lower carloads in Week 10:
forest products
crushed stone
metal products
stone, clay, and glass products
automotive
CNI's intermodal traffic in Week 10
For the past several weeks, Canadian National Railway witnessed a lower growth rate of intermodal traffic. However, in Week 10 of 2018, it reported a double-digit 20.3% growth in intermodal volumes. That week, it hauled ~50,000 containers compared with ~41,600 units last year.
It reported a double-digit 11.6% rise in railcar traffic in Week 10 of 2018. That was much higher than the overall rise in shipments recorded by US and Canadian railroads overall.
In the next and final part of this series, we'll examine Canadian Pacific Railway's freight volumes.