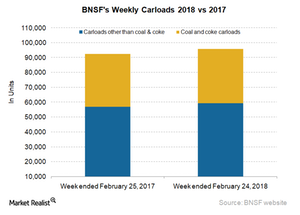 BNSF Railway and Its Freight Volume Trends in Week 8
By Samuel Prince

Updated
BNSF Railway: Carload traffic in Week 8
In the week ended February 24, 2018, major Western US railroad BNSF Railway (BRK.B) reported a 3.8% carload traffic gain on a year-over-year basis. That week, this Berkshire Hathaway–owned railroad hauled ~95,800 railcars, excluding intermodal, compared with ~92,300 railcars in the week ended February 25, 2017. While BNSF Railway gained in terms of carload traffic, its archrival Union Pacific (UNP) declined 2.1% in carloads in the eight weeks of 2018. BNSF's carloads trended in sharp contrast to the slight decline by US railroads overall.
Article continues below advertisement
Among all the Class I US railroads, BNSF Railway has the highest share of coal in its total carload traffic. In Week 8 of 2018, coal and coke's share in BNSF's total carloads remained almost the same at 38%. On a volume basis, the company saw 3.4%, or 1,200 units, more coal and coke carloads in the eighth week of 2018. Excluding coal and coke, other carload commodity groups posted 4% higher volumes, reaching ~59,200 units in Week 8 from ~57,000 units in the same week last year.
Ascending and descending carload commodity groups
Below are the carload commodity groups that reported higher carloads:
grain
chemicals
metallic ores
stone, clay, and glass
petroleum
Here are the commodity groups where volumes declined:
motor vehicles
food
metals
BNSF's intermodal traffic
In the eighth week of 2018, BNSF Railway registered a 5.2% gain in intermodal volumes. From ~100,000 containers and trailers in last year's Week 8, the company carried 105,200 units in Week 8 of 2018. Containers accounted for 88.4% of intermodal traffic, whereas the remaining 11.6% was contributed by trailers. BNSF's container traffic expanded 3.3% to 93,000 units from 90,000 last year. Trailer volumes soared 22.6% to ~12,200 trailers.
On an overall basis, BNSF Railway posted a 4.5% gain in railcar traffic in Week 8. That was significantly higher than the 2.7% growth reported by US railroads in the same week of 2017.
Next, we'll examine the freight volumes of Union Pacific.