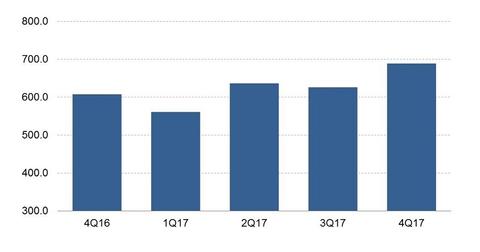 Behind eBay's Rising Marketing Expenses
By Neha Gupta

Updated
Marketing expenses rose over 13%
eBay's (EBAY) marketing expenses kept rising throughout 2017 on a YoY (year-over-year) basis, and they rose 6.2% overall in the year. However, 4Q17 was the period during which eBay's marketing expenses clearly rose faster than its revenue.
The company's marketing expenses jumped 13.3% YoY to $689 million in 4Q17, and its revenue rose 9.0% YoY to $2.6 billion in the quarter. eBay's marketing expenses rose 4.5% in 3Q17 compared to its 9.0% revenue rise in the same quarter. In 2Q17, eBay's marketing expenses rose 2.4% YoY, compared to the 4.0% rise in its revenue. Its marketing expenses rose 4.5% YoY in 1Q17 compared to the 4.0% rise in its revenue.
The chart above shows the trend in eBay's quarterly marketing expenses.
Article continues below advertisement
Brand campaign driving up marketing budget
What's driving up eBay's marketing costs? The company's increased investment in its brand campaign is responsible. As the global e-commerce scene continues to heat up, eBay has needed to make ongoing investments in the promotion of its brand. While its brand campaign may be driving up expenses today, eBay hopes that its investments will pay off in the future.
Major e-commerce operators recorded higher marketing costs
eBay isn't the only e-commerce operator whose marketing expenses are rising. At Amazon (AMZN), marketing expenses rose 36% YoY in 4Q17. Alibaba (BABA) and JD.com (JD), the leading e-commerce companies in China, recorded 88.9% and 35% YoY rises in their marketing expenses, respectively, in 4Q17. Groupon's (GRPN) marketing expenses rose 23.6% YoY in 4Q17.