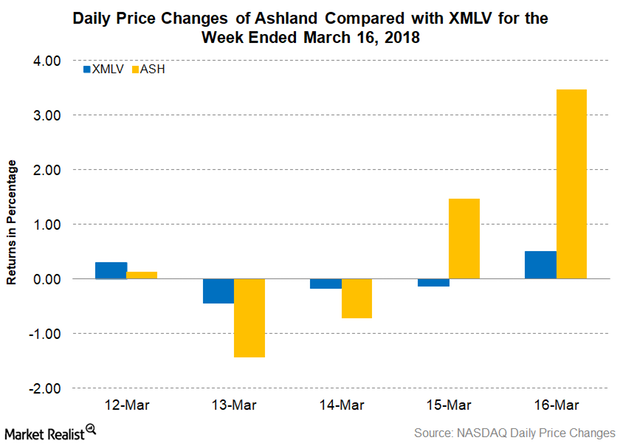 Ashland: Higher Prices for Epoxy Vinyl Ester and Specialty Resins
By Peter Neil

Mar. 19 2018, Updated 9:33 a.m. ET
Ashland increases product prices
On March 15, 2018, Ashland (ASH) announced that it will increase the prices of epoxy vinyl ester and specialty resins, which include brands like AME, Derakane, and Hetron. The price increase will be effective on April 1, 2018, or as the contract allows.
The price increase will be $0.08–$0.12 per pound. The price increase will likely impact the North American region. Ashland cited the increase in raw material prices as the primary reason for the price hikes.
The impact of the price increase will likely be visible in its fiscal 3Q18 earnings and could be positive. The price increase could improve Ashland's revenue if the volumes don't decline. Ashland reported revenue of $842 million in fiscal 1Q18—an increase of 20% year-over-year.
Article continues below advertisement
Stock price update
Ashland's stock price increased 2.9% and closed at $74.73 for the week ending March 16, 2018. As a result, the stock traded 5.1% above the 100-day moving average price of $71.13, which indicates an upward trend in the stock. On a year-to-date basis, the stock has gained 5.0%. However, analysts' appear to be bullish on the stock and have provided a target price of $80.10—a potential return of 7.2% from the closing price as of March 16, 2018.
Ashland outperformed the PowerShares S&P MidCap Low Volatility Portfolio (XMLV), which rose 0.1% during the same period. XMLV has invested 1.1% of its portfolio in Ashland. The fund also provides exposure to Brown & Brown (BRO), Westar Energy (WR), and Rollins (ROL) with weights of 1.5%, 1.3%, and 1.2%, respectively, on March 16, 2018.