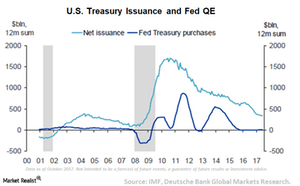 Are Global Interest Rate Hikes Inevitable?
By VanEck

Mar. 29 2018, Updated 12:05 p.m. ET
VanEck
Interest Rates on the Rise
Interest rates globally are "normalizing", kickstarted by the U.S. about two years ago when it stopped quantitative easing and started increasing interest rates.
Europe is about two years behind the U.S. on this and is showing signs of tightening. The European Central Bank has started reducing its bond purchases, which is a sign that interest rates could turn positive, but it has a trickier market dynamic to navigate. The role of the central bank in Europe is much bigger relative to its market size than in the U.S., so its actions can potentially have a more significant effect on the market and market psychology.
Central banks globally have learned to move slowly enough to be fairly predictable, so we think easing will be carried out in an orderly way. However, the possibility of a large impact means the European Central Bank's activities will still need to be watched closely.
Article continues below advertisement
Market Realist
More rate hikes coming
The recent ultra-loose monetary policy that has been in vogue globally is coming to an end. While the US (IVV) Federal Reserve raised interest rates by 75 basis points in 2017, it has already indicated that three more hikes could occur in 2018, followed by another two increases in 2019. The Fed is also in the process of shrinking its balance sheet from ~$4.5 trillion to less than $3.0 trillion in 2020.
Unwinding by other central banks
With the ECB (European Central Bank) foreseeing 2.3% GDP growth for the Euro area (VGK) (EZU) in 2018 and most of the other economic indicators pointing toward a gradual economic recovery, the need for a significant economic stimulus for Europe seems to be over. Once inflation picks up to the ECB's target of below but close to 2.0%, the ECB could be expected to raise interest rates. However, that event could be expected to occur only in 2019. The ECB has also promised to buy bonds valued at 30 billion euros each month until September.
Meanwhile, Japan (EWJ) (DXJ) is also aiming for a smooth exit from its ultra-loose monetary policy without disturbing the markets. The Bank of Japan has already started gradually reducing its massive quantitative easing (or QE) program. Similarly, the Bank of England has been hiking its key rate since November 2017 and is likely to increase it further in 2018.