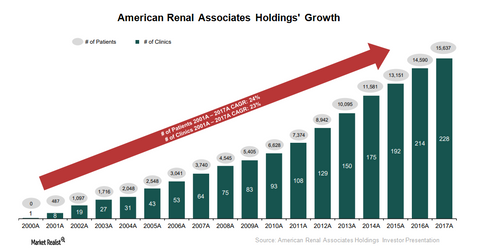 Analyzing the Business Model of American Renal Associates Holdings
By Kenneth Smith

Updated
Business model
American Renal Associates Holdings (ARA) operates its dialysis clinics mainly through a joint venture model. Most of its clinics are maintained as separate joint ventures in which American Renal Holdings has the controlling interest, and its nephrologist partners and other joint venture partners have a noncontrolling interest.
At the end of December 2017, American Renal Associates held 54% of the interest in its joint venture clinics on average. The company believes its joint venture model combined with a high-quality operational infrastructure provides its physician partners the independence to make improved clinical decisions that maximize the quality of care.
Article continues below advertisement
End-stage renal disease
American Renal Associates Holdings provides patient care to patients suffering from end-stage renal disease (or ESRD). In general, the loss of kidney function is irreversible. Kidney failure is caused by type one and type two diabetes, high blood pressure, polycystic kidney disease, long-term autoimmune attack on the kidney, and prolonged urinary tract obstruction.
In the ESRD stage of kidney impairment, continued dialysis treatments or a kidney transplant is required. According to the United States Renal data system, there were ~493,500 ESRD dialysis patients in the US in 2015. This number grew at a ~3.8% compound rate from 2000 to 2015. This growth rate is attributable to the aging population, increased incidence rates for diseases that lead to kidney failure, lower mortality rates for dialysis patients, and growth rates of minority populations with higher-than-average incidence rates of ESRD.
Since 2013, American Renal Associates Holdings has opened 15 or more clinics every year. From 2013 to 2017, the total number of treatments performed by the company has grown at a compound annual growth rate of 12.2%. This growth has been primarily driven by increases in non-acquired treatments.
In the next part of the series, we take a look at the growth strategy of American Renal Associates Holdings.