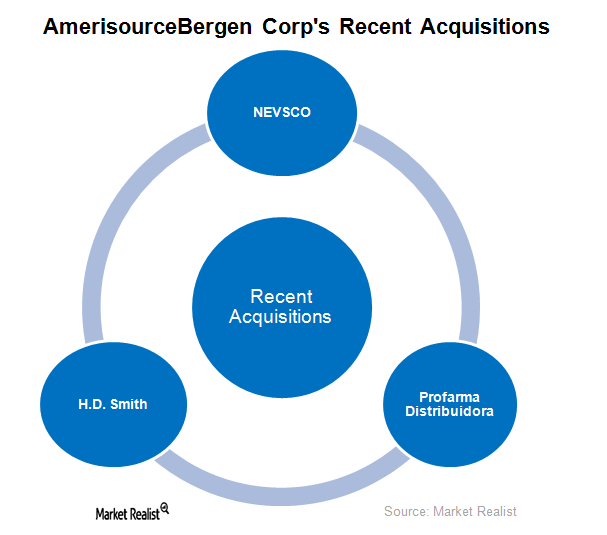 Analyzing AmerisourceBergen's Recent Acquisitions
By Kenneth Smith

Mar. 6 2018, Updated 1:14 p.m. ET
Nevsco
In December 2017, AmerisourceBergen (ABC) acquired Northeast Supply Company, or NEVSCO, for a consideration of $70 million. NEVSCO distributes veterinary pharmaceuticals and medical supplies catering primarily to the northeast region of the US. The acquisition is expected to strengthen AmerisourceBergen's MWI animal health segment and augment its support of independent veterinary practices and animal health customers.
Article continues below advertisement
H.D. Smith
On January 2, 2018, AmerisourceBergen completed the acquisition of H.D. Smith Holding Company, which is the largest independent pharmaceutical wholesaler in the US.
AmerisourceBergen paid $815 million as a consideration for the acquisition. H.D. Smith provides full-line distribution of branded, generic, and specialty drugs along with high-value services and solutions for manufacturers and healthcare providers. H.D. Smith's customers include retail pharmacies, specialty pharmacies, long-term care facilities, and independent physicians and clinics.
The acquisition is expected to strengthen AmerisourceBergen's core business and expand its strategic scale in pharmaceutical distribution and support for independent community pharmacies.
Profarma and a specialty joint venture
In January 2018, Amerisource Bergen invested $62.5 million in Profarma Distribuidora—a leading pharmaceutical wholesaler in Brazil. AmerisourceBergen invested an additional $15.6 million in the joint venture between the two companies to gain majority ownership interests. The joint venture will provide AmerisourceBergen with an increased presence in the Brazilian marketplace.
AmerisourceBergen's recent acquisitions were financed in part through debt. The company's debt-to-equity ratio stands at 1.61. Cardinal Health (CAH), CVS Health (CVS), and Express Scripts Holding Company (ESRX) have ratios of 1.28, 0.72, and 0.88, respectively.
Next, we'll analyze AmerisourceBergen's financial performance.