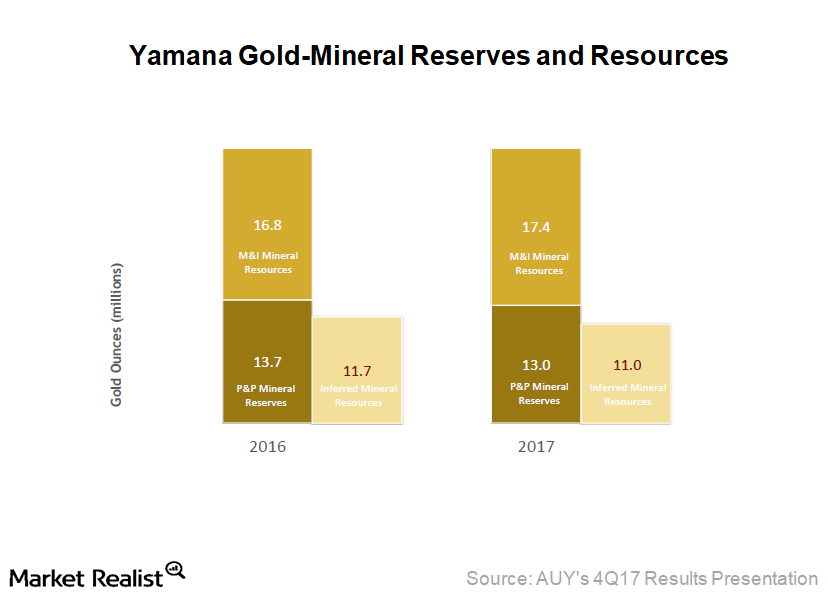 An Update on Yamana Gold's Mineral Reserves
By Anuradha Garg

Mar. 5 2018, Updated 7:34 a.m. ET
Yamana Gold's mineral reserves
Yamana Gold (AUY) reported gold mineral reserves of 13 million ounces for 2017. That implies a decline of 5% compared to the end of 2016. The company uses a different set of gold price assumptions for estimating reserves at each mine. All its mines except Canadian Malartic and Cerro Moro use the gold price assumption of $1,250 per ounce. The Canadian Malartic mine uses an assumption of $1,200 per ounce, and Cerro Moro uses an assumption of $950 per ounce.
Article continues below advertisement
Reserve changes by mine
Among Yamana's mines, Chapada, Jacobina, and Minera Florida reported YoY (year-over-year) increases of 5%, 0.4%, and 5.1%, respectively, in mineral reserves in 2017. All the other mines reported declines. Gualcamayo led the decline with a 35% fall in reserves YoY. The company stated that most of the depletion was related to 2017 production. A 27% decline was reported at the company's El Peñón mine. The decline at El Peñón reflects a depletion in 2017, adjustments to the mineral resource estimation methodology, and updates to the cost structure for local currency depreciation. Canadian Malartic also reported a 10% YoY decline.
Yamana Gold expects exploration success in 2017 to contribute to and grow mineral reserves and mineral resources in 2018.
Other miners' reserves
Broadly, the reserves of other gold miners (NUGT) (RING) have been declining.
Kinross Gold's (KGC) reserves fell 16% YoY in 2017 to 25.9 million ounces. The major decline in reserves was due to the sale of Cerro Casale.
Barrick Gold (ABX) reported a 25% fall in its 2017 reserves, which came in at 64.5 million ounces. Some of the decline was due to divestments associated with Veladero and Cerro Casale.
Goldcorp's (GG) gold reserves, on the other hand, showed an improvement of 26.5% YoY, coming in at 53.5 million ounces as of June 30, 2017. The significant growth was due to the successful conversion of 4.7 million ounces to mineral reserves at Century and the acquisition of 8.4 million ounces of gold mineral reserves.
In the next part, we'll look at the company's balance sheet and its financial position.