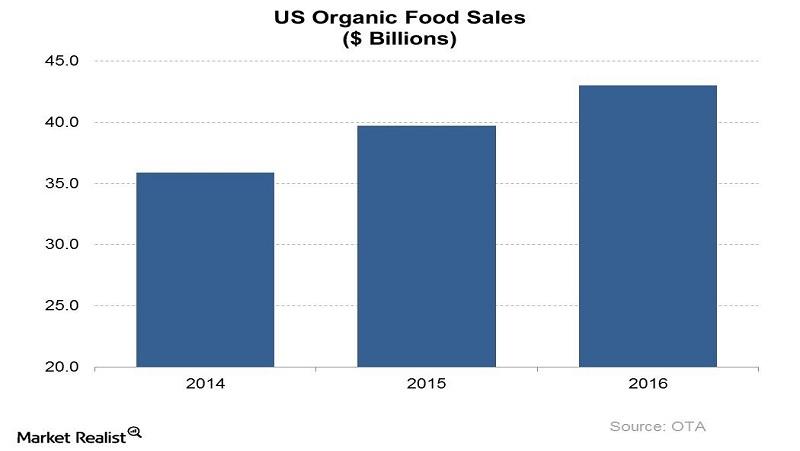 Amazon: What You Should Know about Organic Food Demand
By Ruchi Gupta

Mar. 8 2018, Updated 10:31 a.m. ET
Organic food sales jumped more than 8%
For Amazon (AMZN), 2018 will be its first full year of owning Whole Foods, the organic foods retailer that it acquired in August 2017. Amazon's acquisition of Whole Foods was viewed as fitting with its strategy to speed up its penetration of the grocery industry. The organic foods market is shaping to be a big deal.
According to the latest available estimates from the OTA (Organic Trade Association), US organic food sales hit a record $43.0 billion in 2016, up 8.4% over the previous year's sales. The organic food market is expanding faster than the overall retail food market in the US. Total retail food sales increased 5.3% in 2016.
The US organic food market was estimated at $39.7 billion in 2015, while the market was estimated at $35.9 billion in 2014, as illustrated in the chart above.
Article continues below advertisement
Growth drivers in the organic food market
Catalysts of growth in the organic food market include rising consumer incomes and consumers becoming more conscientious about the quality of the food they consume. 
According to a recent Reuters report, Walmart (WMT) is facing a lawsuit for allegedly misleading its customers into believing they were buying organic eggs when that wasn't the case. The US organic egg market is estimated at $500.0 million a year, and Amazon's Whole Foods as a player here.
Big brands venturing into the organic food business