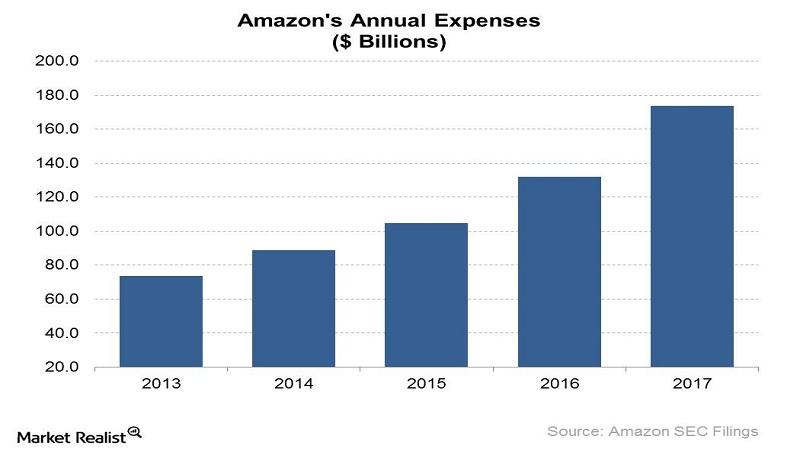 Amazon Isn't Alone in Automating Store Checkouts
By Ruchi Gupta

Mar. 9 2018, Updated 7:30 a.m. ET
Beating Amazon at its own game?
As Amazon (AMZN) gears up to open more of its Amazon Go outlets, its retail competitors are not sitting idle. Amazon Go is a convenience store concept that allows customers to shop and pay for their purchases without waiting in line at the checkout counter or interacting with a human cashier.
The first Amazon Go opened in January 2018 near Amazon's headquarters in Seattle. The company is reportedly planning to open six more Amazon Go outlets before the end of this year. Although Amazon Go may feature more advanced technology, Walmart (WMT) and Kroger (KR) are on track to beat Amazon in terms of automating checkouts at more stores.
Article continues below advertisement
400 Kroger stores to get Scan, Bag, Go
Walmart has been testing its Scan and Go technology in a few select markets for some time, and it's now expanding the test to more locations. Walmart's Scan and Go allows customers to scan and bag items as they shop. When they are done shopping, they can pay directly with their smartphones without interacting with a cashier. Walmart plans to roll out its Scan and Go technology to an additional 100 stores in the US before the end of this year.
Kroger also has a cashierless shopping experience similar to Walmart's Scan and Go. Kroger is planning to roll out its Scan, Bag and Go technology in 400 stores this year.
Cutting payroll expenses
In addition to eliminating frustrations for customers by speeding up checkout, automated store checkout systems that Amazon, Walmart, and Kroger are deploying can also help them cut costs. By eliminating the need for human cashiers, there is an opportunity for these retailers to lower their payroll expenses and costs in general, which could, in turn, lift their bottom lines.
At Amazon and eBay (EBAY), expenses increased 31.9%, and 9.0%, respectively, in 2017. At Walmart and Kroger, expenses increased 4.3% and 5.3%, respectively, in their latest fiscal years. Costco (COST) recorded an 8.6% increase in expenses in its fiscal year ended September 2017.