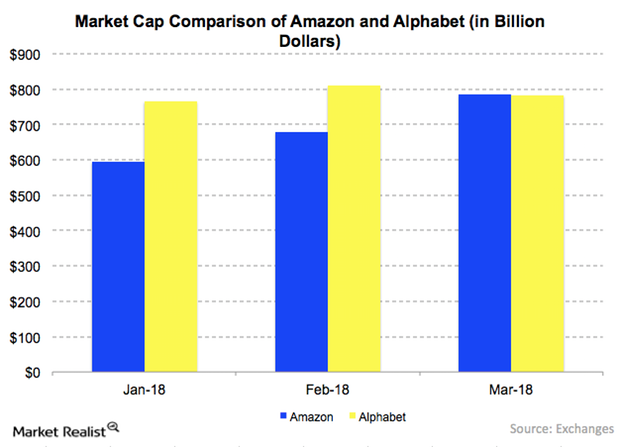 Amazon Beat Alphabet in Market Cap—Is Apple Next?
By Sanmit Amin

Mar. 26 2018, Updated 7:34 a.m. ET
Amazon overtook Alphabet as the second-most valuable company
In the last week, the Facebook (FB) issue with Cambridge Analytics has dragged most tech stocks down with it. However, Amazon (AMZN) continues its gravity-defying march toward becoming the biggest public company in the world in terms of market cap.
While Google and Facebook saw big declines on March 19 and March 20, Amazon's stock price rose 2.7% on March 20 after falling 1.7% on the previous day.
As of Tuesday, March 20, Amazon had a market cap of $768.0 billion, overtaking Alphabet's (GOOG) market cap of $763.0 million after the decline. Amazon could become the first company to breach the $1.0 trillion market cap.
Apple, which has a market cap of $890.0 million, has been languishing of late due to slowing smartphone demand.
Article continues below advertisement
Why the odds are favorable for Amazon to overtake Apple
Google could be negatively affected by regulations that could be in place after Facebook was unable to stop improper access and usage of user data. Alphabet stock is up 4.0% year-to-date.
Amazon stock has surged more than 35.0% year-to-date, as investors are impressed by the company's robust growth and its hunger to enter various fields, including healthcare.
Compared with its peers Apple, Google, Microsoft, and Facebook, Amazon's growth prospects seem the strongest despite its lofty valuations.