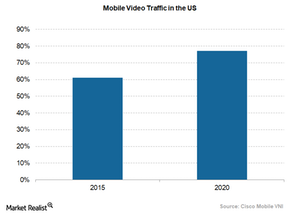 A Quick Look at Disney's ESPN Direct-to-Consumer Business Launch
Disney pursuing direct-to-consumer strategy
The Walt Disney Company's (DIS) acquisition of 21st Century Fox (FOXA) seems to be a significant step toward its goal of launching its direct-to-consumer strategy. Disney's direct-to-consumer strategy signifies that the media company will now operate streaming video services to distribute its premium content.
As Disney prepares to launch its online video services, it is withdrawing its content from Netflix (NFLX) to compete with online streaming service providers such as Netflix, Amazon (AMZN), and Alphabet's (GOOGL) YouTube.
Article continues below advertisement
Disney launches two streaming services
Disney is planning to offer two streaming services—one that will stream live sports via ESPN and another that will stream content from Disney's extensive library. Regarding ESPN, the company will launch an advanced ESPN app offering 10,000 live sporting events in 2018. The company will roll out its Disney app, which will feature films and TV shows, in 2019.
According to Disney, ESPN's subscribers will be able to access the direct-to-consumer service through an enhanced version of ESPN's app, which will offer multisports packages as well as individual sports packages. The company has decided to price its ESPN live streaming services (called ESPN Plus) at $4.99 per month.
Rising popularity of online viewing
The announcement of Disney's ESPN direct-to-consumer services comes at a time when online content viewing is becoming increasingly popular among consumers. Notably, the demand for content is rising owing to the growing number of digital devices other than televisions in the United States, such as smartphones, laptops, and tablets.
According to a Cisco Systems' VNI (Visual Networking Index) report, video is likely to account for 77.0% of all mobile data traffic by 2020 in the United States.