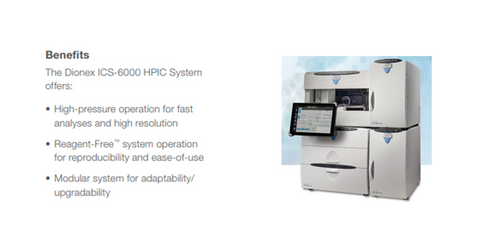 A Look at TMO's New High Pressure Ion Chromatography System
By Sarah Collins

Updated
Overview
On February 27, 2018, Thermo Fisher Scientific (TMO) announced the launch of its new high-pressure Ion Chromatography System. The Thermo Scientific Dionex ICS-6000 HPIC (high-pressure ion chromatography) system offers automated monitoring and diagnostics capabilities to enable faster workflow. The system is thus designed to provide higher productivity for both routine and research workflows and is expected to be advantageous for complex research applications and time-sensitive analysis.
Article continues below advertisement
The Dionex HPIC technology has been enabling ion chromatographers for more than 40 years. The new system is "designed to deliver robust performance and enable timely identification of instrument performance issues, helping scientists implement corrective measures to facilitate uninterrupted operation and improve laboratory efficiencies."
Key system features
Some of the key features of the Thermo Scientific Dionex ICS-6000 HPIC system include Unity Remote Services software, consumables device monitors, IC PEEK Viper Fittings, and Intuitive Table Control. The system's Unity Remote Services software enables minimal downtime and data loss by providing remote instrument operation monitoring and early detection of any issues. The consumables device monitor enables optimally accurate data storage as it incorporates memory tags into each IC consumable. In case of any consumables mismatch, the system issues a notification, and the operator can take preventive measures to minimize resulting downtime. The Intuitive table control feature enables continuous system control and monitoring of the process status.
Agilent (A), Abbott Laboratories (ABT), and Waters (WAT) also provide chromatography data systems to researchers.