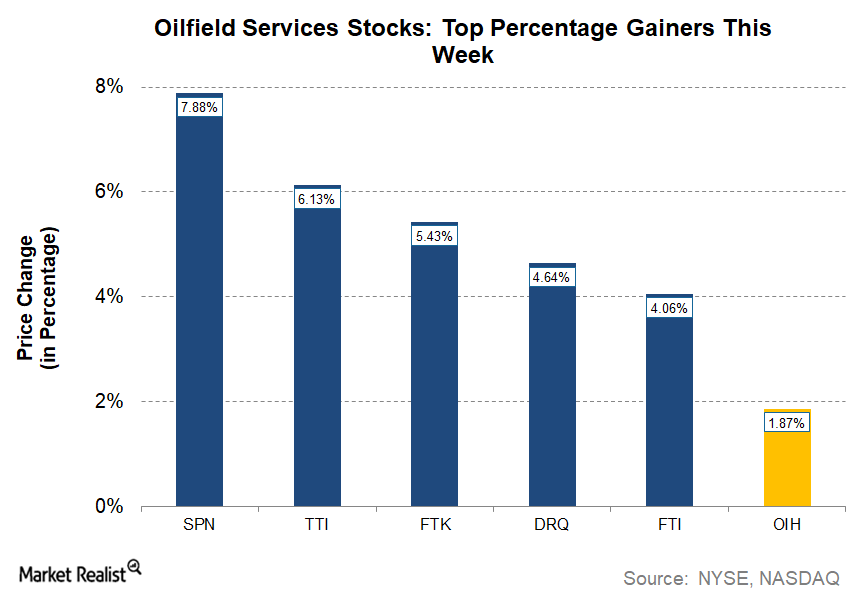 A Look at the Top Oilfield Services Gainers So Far This Week
By Nicholas Chapman

Mar. 8 2018, Published 8:11 a.m. ET
Oilfield services gainers
In this part, we'll analyze the top percentage gainers from the oilfield services sector in the US for the current week starting March 5, 2018. To compile the list of top oilfield services gainers, we have used oilfield services companies with market capitalizations of greater than $100 million and average trading volume of over 100,000 shares last week.
Article continues below advertisement
Superior Energy Services has risen the most in the current week
In the week starting March 5, 2018, Superior Energy Services (SPN) is the top gainer in the oilfield services group. SPN increased from last week's close of $8.63 to $9.31 on March 6, a sizeable increase of ~8%. Interestingly, there was no news release from the company behind this move.
Two weeks back, on February 19, 2018, Superior Energy Services (SPN) reported worse-than-expected earnings. SPN missed the EPS estimates by $0.01 in 4Q17. SPN reported an adjusted loss of $0.33 per share, whereas Wall Street analyst consensus was for the loss of $0.32 per share.
Moving up: TTI, FTK, DRQ, FTI
The other stocks on the list of gainers for the current week include Tetra Technologies (TTI), Flotek Industries (FTK), Dril Quip (DRQ), and FMC Technologies (FTI). TTI, FTK, DRQ, and FTI rose ~6.1%, ~5.4%, ~4.6%, and ~4.1%, respectively, so far, this week.
On March 1, 2018, Tetra Technologies (TTI) announced the closure of the divestment of its offshore decommissioning services and maritech businesses. On the same day, TTI also completed the acquisition of SwiftWater Energy Services, which will become part of TTI's fluids business division.
In general, there is a positive sentiment about the oilfield services stocks this week, which is evident in the decent gain of ~1.9% by the VanEck Vectors Oil Services ETF (OIH), which represents an index of stocks from the oilfield services industry.