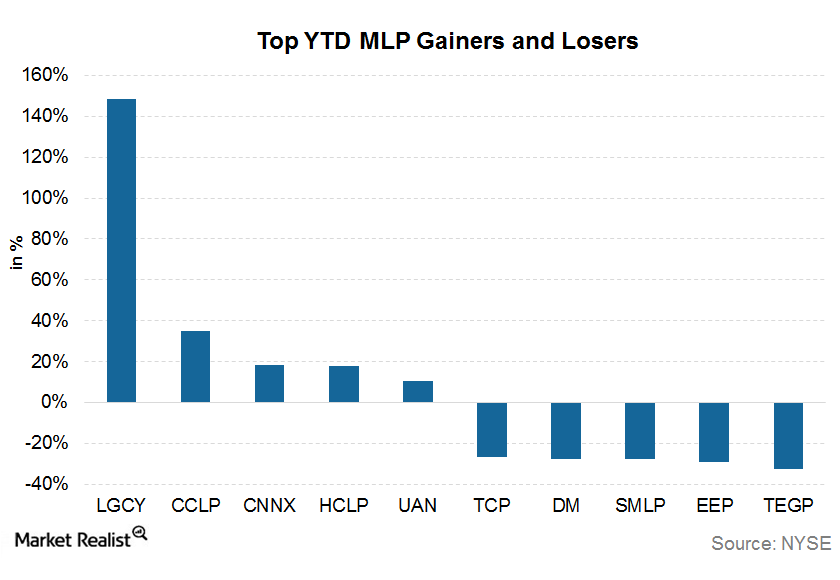 A Look at the Top Gainers and Underperformers in the MLP Sector
By Kurt Gallon

Nov. 20 2020, Updated 2:53 p.m. ET
Top YTD MLP gainers
Legacy Reserves (LGCY), an upstream MLP involved in crude oil, natural gas, and NGL (natural gas liquids) production, is the top YTD (year-to-date) MLP gainer. LGCY has risen ~70.0% since the 4Q17 earnings announcement and ~140.0% since the start of this year.
The huge rally following its 4Q17 earnings could be attributed to its better-than-expected 4Q17 results, improved financial position, and strong earnings guidance for 2018. For further details, please read Last Week's Top MLP Gainers: Legacy Reserves and More.
Article continues below advertisement
CSI Compressco (CCLP) and Hi-Crush Partners (HCLP) are the second- and third-largest MLP gainers with YTD gains of 34.4% and 18.7%, respectively. CCLP's and HCLP's strong YTD performance numbers could be attributed to strong US drilling activity, which resulted in strong volume and strong earnings growth. CCLP provides contract natural gas compression services while HCLP is involved in frac-sand production.
CVR Partners (UAN), an MLP involved in the production of nitrogen fertilizers, is the fourth-highest MLP gainer. CVR Partners' strong YTD performance could be attributed to its recent rating upgrades.
SunCoke Energy Partners (SXCP), an MLP mainly involved in cokemaking, is the fifth-highest MLP gainer with YTD gains of 7.9%. SXCP's strong YTD performance could be attributed to its strong recent earnings. It also anticipates expected benefits from a rise in US steel production following the recent imposition of tariffs.
Article continues below advertisement
Top YTD MLP underperformers
Interstate pipeline operators TC PipeLines (TCP), Dominion Midstream Energy Partners (DM), and Enbridge Energy Partners (EEP) are among the top five YTD MLP underperformers. This is mainly due to weakness following the FERC ruling. However, TCP doesn't expect any material impact from the ruling in the near term.
Summit Midstream Partners (SMLP), a midstream MLP mainly involved in natural gas gathering, processing, and compression, is the third-highest MLP underperformer in 2018 YTD. SMLP's YTD declines could be attributed to its weak 4Q17 earnings and weak earnings outlook for the year.
Tallgrass Energy GP (TEGP), the GP of Tallgrass Energy Partners (TEP), is the fourth-highest YTD MLP underperformer. TEGP has lost 21.6% YTD. The weakness in TEGP's price could be mainly attributed to the possibility of the simplification of TEP's capital structure and distribution cuts. If this happens, it would impact TEGP's cash flow.