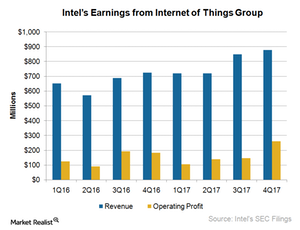 A Look at the Future of Intel's Internet of Things Business
By Puja Tayal

Mar. 19 2018, Updated 9:01 a.m. ET
Intel's Internet of Things business
Intel (INTC) aims to provide end-to-end 5G and AI (artificial intelligence) solutions, from the data center to end-user devices. Intel's IoTG (Internet of Things Group) is working on edge-computing solutions, bringing data center–like capabilities.
These capabilities would enable solution providers to process more data at the device level, thereby reducing latency and opening new opportunities for potential endpoint devices—a car would not need to wait for traffic data to be updated, and TV viewers could enjoy uninterrupted streaming of a show. NVIDIA (NVDA) is also focusing on edge solutions with its Jetson platform.
Article continues below advertisement
Intel's IoTG earnings
Intel had 2.5 times more IoT design wins and IoT programs in 2017 than in 2016, raising its IoTG revenue by 20% YoY (year-over-year) to $3.2 billion, and operating income by 11% YoY to $650 million in 2017.
In 4Q17, IoTG revenue rose 21% YoY, driven by demand in retail, video, and in-car infotainment segments. IoTG's operating income rose 78% sequentially and 42.9% YoY to $260 million in 4Q17, with its embedded software, Wind River, reporting strong growth in multiyear contracts.
Intel Xeon D-2100 processor 
To bring data center capabilities to the edge, Intel unveiled its Xeon D-2100 processor for embedded devices in February 2018. Compared to the prior-generation Intel Xeon D-1500 processor, Xeon D-2100 delivers up to 1.6x general compute performance, up to 2.9x network performance, and up to 2.8x storage performance.
The Xeon D-2100 processor features up to 18 cores integrated with up to 100 Gbps (gigabits per second) of built-in cryptography, decryption, and encryption acceleration. It integrates compute, networking, storage, and other chips necessary for edge computing. It also offers Intel Data Direct I/O (input/output), which enhances performance and efficiency for networking and edge analytics applications.
Article continues below advertisement
The Xeon D-2100 processor uses the same Xeon Scalable processor architecture and Intel Mesh architecture as the data center but consumes only 60 to 110 watts. Using the same architecture reduces the complexity, cost, and time required to get new systems qualified from customers who have already worked to qualify Intel Xeon Scalable platforms. NVIDIA also leverages the same architecture across different applications, from data centers to device computing.
Uses of the Xeon D-2100 processor
Intel stated that its Xeon D-2100 processor would support the new technologies arising from the 5G evolution, such as augmented and virtual reality applications and autonomous driving. The embedded processor would also support 5G infrastructure requirements such as virtual private networks and software-defined wide area networks.
To boost adoption of the Xeon D-2100 processor, Intel has partnered with several different types of companies, including Ericsson, Dell EMC, NetApp, NEC, and Palo Alto Networks. Speaking of edge computing, one major market Intel is tapping is that of autonomous driving, which we'll discuss next.