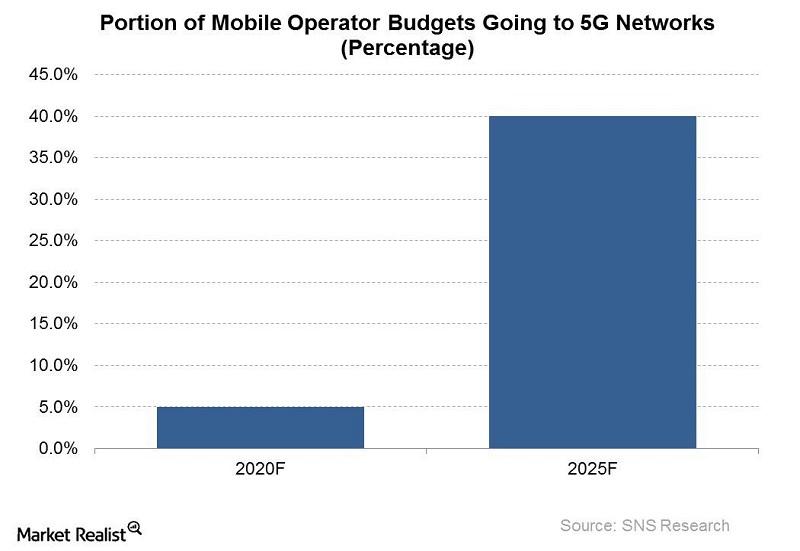 A Look at Samsung's Many 5G Monetization Strategies
By Ruchi Gupta

Mar. 20 2018, Updated 2:10 p.m. ET
5G promises faster network speeds
Samsung (SSNLF) is getting involved in 5G (fifth-generation) strategies in a variety of ways as it looks to profit from its evolution to the faster wireless network. 5G promises faster download speeds and shorter response time.
Mobile network operators—from Verizon (VZ) and AT&T (T) in the United States to Telia and Deutsche Telekom in Europe—are looking to 5G to enable them to unlock new revenue streams. Samsung is helping operators with their network evolutions to 5G, and it's making money in the process.
Article continues below advertisement
Samsung supplying Verizon's 5G project
Verizon, which is working to launch 5G services in several US markets before the end of the year, selected Samsung as a supplier of network systems for its 5G deployment. Ericsson (ERIC) is another Verizon supplier for the 5G project.
Apart from selling network gears in the network operator market, Samsung is also working to be among the first companies to launch a 5G-ready smartphone. Qualcomm (QCOM), a leading supplier in the phone market, predicts that consumer 5G-ready smartphones will start arriving in 2019.
5G-related spending is expected to take up 40% of operators' budgets by 2025, according to SNS Research.
IoT to drive demand for image sensors
The arrival of 5G is expected to accelerate the connectivity of objects under the IoT (Internet of Things) program, and this could spur demand for image sensors as more homes are fitted with things like connected security cameras and connected thermostats. Samsung is aiming to dethrone Sony (SNE) as the top supplier of camera sensors.