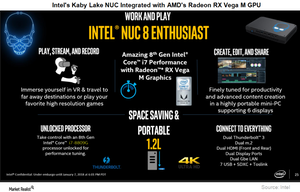 A Look at Intel's Upcoming Laptop Processors in 2018
By Puja Tayal

Mar. 15 2018, Updated 10:20 a.m. ET
Intel's laptop processors
Intel (INTC) is focusing on the laptop segment in the PC (personal computer) market. Benchmarks of its next rumored Coffee Lake mobile CPU (central processing unit) Core i7-8750H were leaked on Geekbench and reported by SegmentNext. 
The leaked benchmarks show that compared to the i7-7700HQ and the Core i7-8550U, the i7-8750H is 20% faster in single-threaded tests and 50% faster in multithreaded tests.
The "H" stands for high-performance graphics. The Core i7-8750H has a base clock speed of 2.2 GHz (gigahertz), which can be boosted to 4.09 GHz. As Intel hasn't yet officially announced the Core i7-8750H, these benchmarks should be taken with a grain of salt.
Another rumor in a separate SegmentNext article stated that Intel had unlocked its six-core, 12-thread Core i9-8950HK mobile CPU, allowing users to overclock it. The leak stated that the Core i9-8950HK would have a base clock of 2.9 GHz and a turbo speed of 3.9 GHz.
Article continues below advertisement
Intel's Hades Canyon NUC powered by AMD's Vega GPU
Intel is doing all it can to squeeze out as much revenue as possible from the laptop segment. It has even joined forces with its rival Advanced Micro Devices (AMD) to launch gaming laptop CPUs that are integrated with the AMD's discrete GPU (graphics processing unit), as its integrated GPUs aren't ideal for gaming.
Intel's upcoming Hades Canyon NUC (Next Unit of Computing) will come in two versions: the NUC8i7HVK and the slower NUC8i7HNK. Both will feature AMD's Radeon RX Vega M and 4 GB (gigabyte) of HBM2 (high-bandwidth memory) and will come with several connectivity options, including two Thunderbolt 3 ports, dual Gigabit Ethernet, USB 3.0 Type-A and Type-C ports, and an optical audio out.
The faster NUC8i7HVK NUC will feature the Core i7-8809G processor, have a 3.1 GHz base clock speed and a 4.2 GHz Turbo speed, and have a Radeon RX Vega M GH (high graphics) GPU that clocks between 1,063 and 1,190 MHz (megahertz). The preproduction engineering sample was able to deliver 1080p resolution at 60 FPS (frames per second) while consuming 100 watts of power.
The slower NUC8i7HNK NUC will feature the Core i7-8705G processor and a Radeon RX Vega M GL (low graphics) GPU that clocks between 931 and 1,011 MHz. The preproduction engineering sample was able to deliver 1440p resolution while consuming 65 watts of power.
The Tech Report reported the first review of the preproduction engineering sample of the Hades Canyon NUC by Korean hardware and gaming site Playwares. The site found that the NUC's performance was between NVIDIA's (NVDA) GeForce GTX 1050 Ti and GTX 1060 desktop GPUs.
The FPS delivered by the NUC increased when the system was moved from the Ultra preset to Overclocked mode. The performance of Rise of the Tomb Raider increased from 53 FPS to 59 FPS, and the performance of Rainbow Six: Siege rose from 96 FPS to 106 FPS. The NUC8i7HVK NUC consumed 140 watts of power on average and 186 watts when overclocked.
Intel is not only sourcing discrete GPUs from AMD but also developing its own discrete GPUs. We'll look into this in the next article.