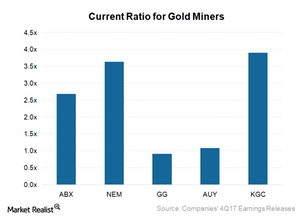 A Look at Gold Miners' Liquidity Positions Post-4Q17
By Anuradha Garg

Mar. 15 2018, Updated 10:30 a.m. ET
Liquidity positions
While financial leverage helps assess a company's long-term solvency, analyzing its short-term liquidity profile is also important.
Article continues below advertisement
Current ratio
One way to assess a company's liquidity is to calculate its current ratio. The chart above shows the current ratios of five gold miners (RING) (GDX). A higher ratio means a company should be better able to take care of its short-term liabilities, and vice versa. Newmont Mining (NEM) and Kinross Gold (KGC) are doing the best among senior miners on this front with ratios of 3.6x and 3.9x, respectively. Goldcorp (GG) and Yamana Gold (AUY), on the other hand, have the lowest current ratios of 0.9x and 1.0x, respectively.
Even the companies with lower current ratios don't seem to be in trouble as far as their liquidity profiles are concerned.
Maturity profiles
Barrick Gold (ABX) has less than $100 million in debt due before 2020. More than 75% of its outstanding debt doesn't mature until 2032, which gives the company ample flexibility to progress on growth projects.
Newmont Mining (NEM) had total liquidity of $6.2 billion at the end of 4Q17 compared to $5.9 billion at the end of 3Q17. Its liquidity includes ~$3.3 billion in cash and cash equivalents. The company doesn't have any debt tranches due until 4Q19.
Kinross ended the year with cash and cash equivalents of $1.0 billion. In addition to cash, it had an available credit facility amounting to $1.6 billion. The cash and credit facility takes the company's total liquidity to $2.6 billion. Kinross doesn't have any debt maturity until 2021, which should help it invest in future development opportunities.
At the end of 2017, Goldcorp had a total of $3.2 billion in liquidity, including $234 million in cash and cash equivalents. It has $500 million in debt due March 15, 2018, which it intends to repay either with cash from operations or by drawing on its credit facility. Its next debt is due for repayment in 2021.