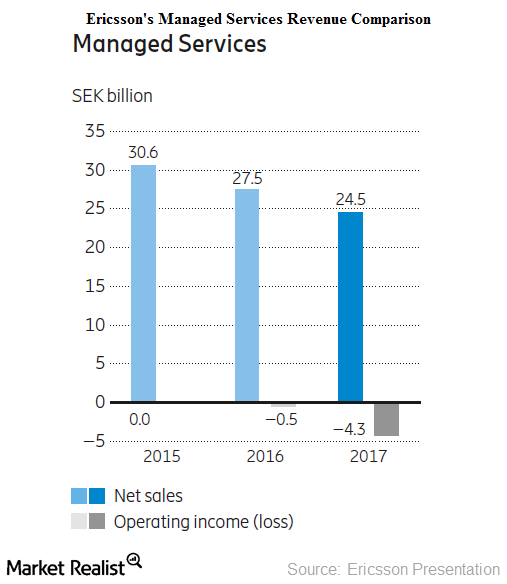 A Look at Ericsson's Managed Services Segment
Managed Services segment
Ericsson's (ERIC) Managed Services segment provides services and network optimization to telecommunications service providers. The segment is responsible for a service provider's network and IT (information technology) operations in contracted areas for an agreed period that ranges from three to seven years. The business model generally has three phases: transition, transformation, and optimization.
Ericsson's annual report states, "The nature of the manages services business gives a higher than Group average working capital turnover ratio, which gives Managed Services a higher return on investment than the other segments."
Article continues below advertisement
Market estimated to grow
The key drivers for the Managed Services segment are the complexity of network systems and the high demand for improving customer experience and cost reduction. Ericsson estimates that this market will grow at a CAGR (compound annual growth rate) of 2%–4% between 2017 and 2020. Managed Services revenue has fallen 10% YoY to 27.5 billion Swedish kroner in 2016 and 11% YoY (year-over-year) to 24.5 billion Swedish kroner in fiscal 2017. The sales decline was driven by the completion of 23 contracts last year.
Ericsson expects net sales of 20 billion–23 billion Swedish kroner in 2020 with an operating margin of 4%–6%. Ericsson has also started exiting unprofitable contracts and is reviewing 42 contracts (out of 300) that it could exit, renegotiate, or transform. This process is expected to be over by 2019, and then the business will focus on providing better operational performance through automation and analytics.
Ericsson also aims to pursue new contracts that have a broad service delivery scope.