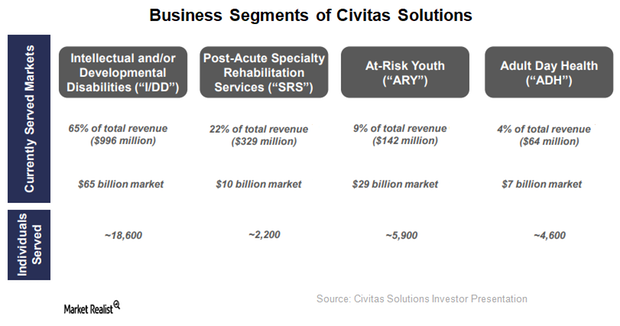 A Look at Civitas Solutions' Recent Acquisitions
By Kenneth Smith

Mar. 13 2018, Updated 3:29 p.m. ET
Services offered
Civitas Solutions (CIVI) prepares customized service plans to meet the individual needs of its customers. These plans are delivered in home and community settings. Other services offered by Civitas Solutions include supported living, day and transitional programs, vocational services, case management, family-based and outpatient therapeutic services, post-acute treatment, neurobehavioral rehabilitation, and physical, occupational, and speech therapies.
Article continues below advertisement
Acquisitions
In 1Q18, Civitas Solutions acquired the assets of six companies for a total consideration of $83 million. These acquisitions include:
In October 2017, Civitas acquired Mentis Neurorehabilitation for $75 million. Mentis is a provider of specialty rehabilitation services to individuals recovering from acquired brain injuries.
In December 2017, Civitas Solutions acquired Unique Options for $5.9 million. Located in Michigan, Unique provides vocational rehabilitation, training, and similar services to individuals with acquired brain injuries and similar conditions.
Civitas Solutions' other acquisitions in 1Q18 include Powell Life Skills, Jac-Lin Manor, Dungarvin Wisconsin, and Resources for Human Development for a total cash consideration of $2.1 million.
Segment performance
The company's largest segment, the intellectual and developmental disabilities (or IDD) segment, provides services in both home and community settings. It also includes crisis intervention and hourly support care. The second largest segment, post-acute specialty rehabilitation services (or SRS), caters to patients who suffer from brain injury, spinal injury, and other illnesses. It also provides specialized nursing, outpatient treatment, and pre-vocational services. Civitas Solutions' third segment, At-Risk Youth (or ARY), provides foster care, family preservation, adoption services, early intervention, and juvenile offender programs.
Segment revenue
In 1Q18, Civitas Solutions' three business segments, IDD, SRS, and ARY, generated revenues of $255.8 million, $85.9 million, and $35.8 million, respectively, compared with $238.2 million, $74.3 million, and $35.7 million, respectively, in 1Q17. The fourth quarter of the calendar 2017 is the first quarter of Civitas Solutions' fiscal 2018.
These three segments generated earnings before interest, tax, depreciation, and amortization (or EBITDA) of $32.9 million, $13.6 million, and $4.8 million, respectively, in 1Q18.
In the next part of the series, we take a look at the financial performance of Civitas Solutions.