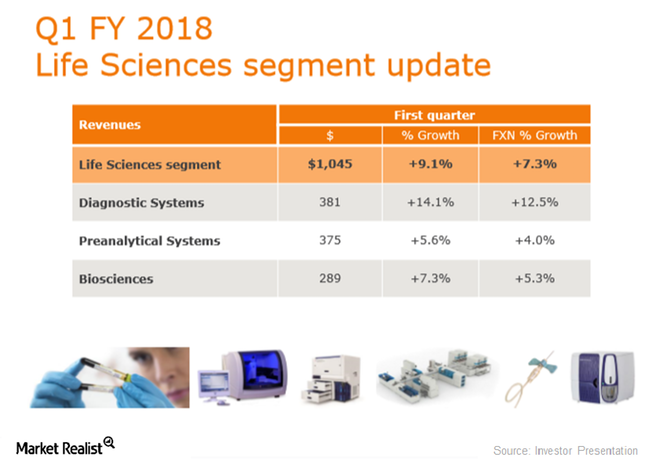 A Look at BDX's Recent Launch and Its Applications
By Sarah Collins

Apr. 2 2018, Updated 7:32 a.m. ET
Overview
On February 20, 2018, Becton, Dickinson and Company (BDX) announced that the CE-IVD marked PAXgene Blood ccfDNA tube is now commercially available in Western Europe. The tube is developed by PreAnalytiX GmbH, which is a joint venture of BDX and QIAGEN.
According to the company, the tube was developed to "ensure accurate and reproducible results in molecular diagnostic testing applications using circulating cell-free DNA (ccfDNA), such as cancer and non-invasive prenatal tests."
Article continues below advertisement
Molecular diagnostic tests using ccfDNA provide an alternative method of gaining actionable biological insights from clinicians without going through invasive procedures such as biopsies. The PAXgene Blood ccfDNA tube is the part of BDX's Life Sciences segment. The segment's performance during fiscal 1Q18 is shown in the diagram above.
Benefits of the device
Standard EDTA tubes are required to process blood within hours, as after a few hours, the cells die, and the genomic DNA is released into the blood plasma. But the PAXgene Blood ccfDNA tube has a stabilization chemistry that enables the processing of the blood until a few days after collection. Thus, these tubes provide a solution to the critical logistical hurdle of molecular testing at labs outside of healthcare centers and hospitals.
Management speaks
According to Frank Augello, the general manager at PreAnalytiX GmbH, "Many molecular diagnostic companies, particularly in the cancer space, are developing new tests for monitoring and screening patients. They need a safe, clinically acceptable system for blood collection and ccfDNA processing that is capable of stabilizing a sample so that ccfDNA extraction can occur after the sample is transferred to another location, something that's not possible with EDTA tubes. This product will help molecular diagnostics companies in Western Europe offering ccfDNA based tests to grow their markets more quickly and ultimately help more patients access leading-edge care."