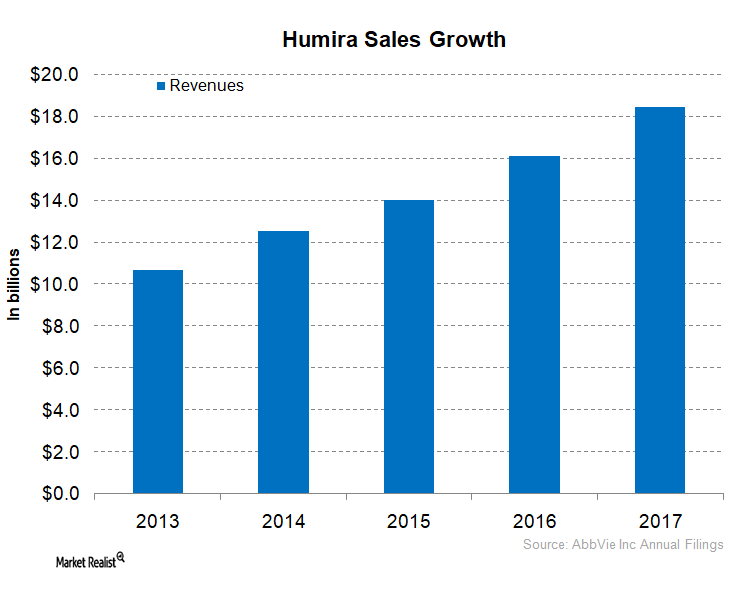 A Look at AbbVie's Product Portfolio
By Kenneth Smith

Mar. 29 2018, Updated 3:13 p.m. ET
Product portfolio
AbbVie's (ABBV) mainstay product is Humira, a biologic therapy administered as a subcutaneous injection. The drug is approved in North America and the European Union for a number of autoimmune diseases including rheumatoid arthritis, psoriatic arthritis, ankylosing spondylitis, adult Crohn's disease, and ulcerative colitis.
Humira is also approved for treating intestinal Behcet's disease in Japan. Humira contributed approximately 65% of AbbVie's total revenues in fiscal 2017.
Article continues below advertisement
Oncology products
AbbVie's oncology product portfolio includes Imbruvica and Venclexta. Imbruvica is a first-in-class therapy that inhibits Bruton's tyrosine kinase (or BTK). It was one of the first drugs to receive approval from the Food and Drug Administration (or FDA) after receiving a breakthrough therapy designation. The drug is currently approved for treating adult patients suffering from chronic lymphocytic leukemia (or CLL), small lymphocytic lymphoma (or SLL), mantle cell lymphoma (MCL), Waldenstrom's macroglobulinemia, marginal zone lymphoma, and chronic graft versus host disease (or cGVHD) after one or more lines of systemic therapy have failed.
Venclexta is the first treatment to receive FDA approval for B-cell lymphoma 2 (or BCL-2) protein, which supports cancer cell growth. It is approved for treating patients with CLL who have received at least one prior treatment.
Virology products
AbbVie's virology products are targeted for the treatment of patients suffering from hepatitis C virus (or HCV) and human immunodeficiency virus (or HIV-1). Its HCV products include Mavyret and Viekera Pak and Technivie.
Vikera Pak is an interferon-free therapy for the treatment of patients with genotype 1 chronic HCV including those with compensated cirrhosis. Technivie is approved by the FDA in combination with ribavirin for treating adults with genotype 4 HCV infection.
In the next part of the series, we'll take a look at AbbVie's hormones and endocrinology product portfolio.