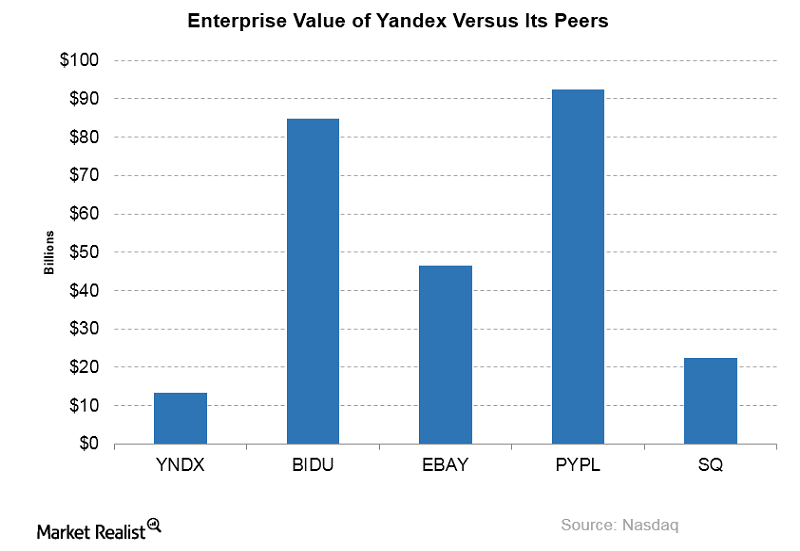 A Closer Look at Yandex's Stock Analysis
By Neha Gupta

Mar. 23 2018, Updated 10:32 a.m. ET
A look at Yandex's enterprise value and related multiple
Yandex NV (YNDX) boasts an enterprise value (or EV) of $13.3 billion for 2017.
In comparison, Baidu (BIDU), eBay (EBAY), PayPal (PYPL), and Square (SQ)—Yandex's peers in the Internet sector—boast enterprise values (or EV) of $84.9 billion, $46.6 billion, $92.4 billion, and $22.4 billion, respectively.
How does Yandex's EV compare with its adjusted EBITDA (adjusted earnings before interest, tax, depreciation, and amortization) for the last 12 months? The company's EV-to-adjusted EBITDA for the trailing 12 months computes to 31.6x, which compares with an EV-to-EBITDA of 20.8x expected for 2018. Yandex's EBITDA margin for 2017 is 26%.
A further look at the company's EV ratios shows that EV-to-sales for the trailing 12 months is 8.2x and EV-to-sales anticipated for 2018 is 5.2x.
Moreover, the trailing-12-month EV-to-cash flow for the company was 32.3x, which also compared with trailing-12-month EV-to-free cash flow to the company of 67.5x.
Article continues below advertisement
Eye on Yandex's price multiple
Yandex's book value per share works out to $4.4, while its estimated book value per share is $5.9. The stock is trading at a price-to-book value of 9.9x.
The company's price-to-sales is 8.7x for 2017, and the estimated price-to-sales for 2018 is 6.7x.
EBIT on interest coverage ratio
Can Yandex easily pay interest on its outstanding debt? The answer lies in examining the company's EBIT on interest ratio, also called its interest coverage ratio, which in this case is 58.1x.
As for debt on the economic value of the company, Yandex has debt on its enterprise value of 2%.
Article continues below advertisement
Analyst recommendations
Of the 15 analysts covering Yandex, 11 have given it a "buy" recommendation, one has recommended a "sell," and three have recommended a "hold." Analysts' stock price target for the company is $41.12 and median price target for the company is $47.
Relative strength index
For the last 14 days, Yandex reported a relative strength index (or RSI) of 60, compared to 52, 41, 57, and 85 for Baidu, eBay, PayPal, and Square, respectively.