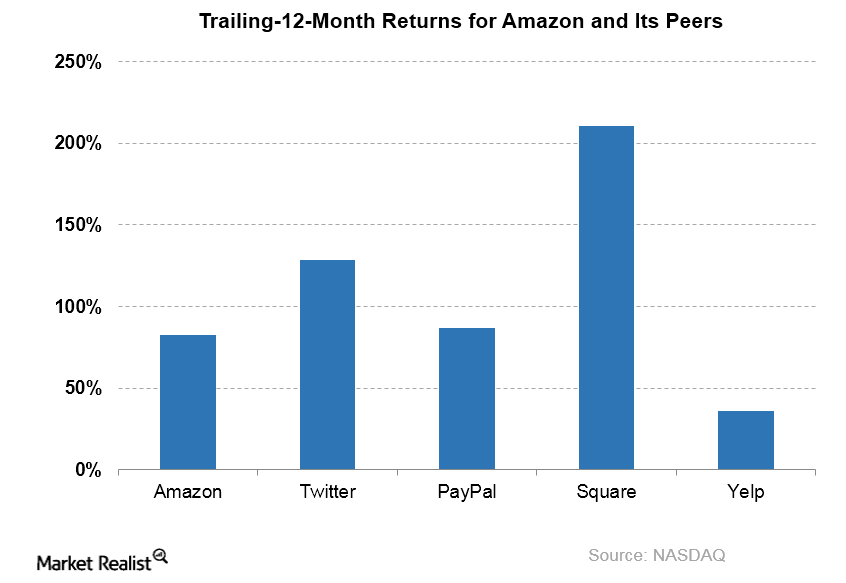 A Closer Look at Amazon Stock Today
By Ruchi Gupta

Mar. 14 2018, Updated 9:01 a.m. ET
Shareholder returns and stock trends
Amazon.com (AMZN) has generated investor returns of 14.9% in the trailing-one-month period and 82.5% in the trailing-12-month period. The company's share price has gained 3.9% in the trailing-five-day period.
By comparison, peer companies Twitter (TWTR), PayPal (PYPL), Square (FB), and Yelp (YELP) have generated investor returns in the trailing-12-month period of 128.7%, 86.7%, 210.5%, and 35.9%, respectively.
Article continues below advertisement
What amount of debt is Amazon carrying?
Amazon is carrying a total debt of $30.9 billion, which we can calculate by adding its short-term debt of $6.1 billion to its long-term debt of $24.7 billion. As the company has total capital of $58.6 billion, its total debt-to-total-capital ratio comes in at 52.7%.
If we look at the company's debt in relation to its assets, equity, and EBITDA (earnings before interest, tax, depreciation, and amortization), we'll find that Amazon's debt-to-asset ratio, debt-to-equity ratio, and debt-to-EBITDA ratio come in at 0.24, 111.4, and 0.11, respectively.
Relative strength index
For the past 14 days, Alphabet reported an RSI (relative strength index) of 76, compared with the 56, 60, 80, and 77 recorded by Twitter, PayPal, Square, and Yelp, respectively, within the same period.
Article continues below advertisement
EBIT-to-interest ratio or interest coverage ratio
But how easily can Amazon pay the interest on its outstanding debt? The answer lies in examining the company's EBIT-to-interest ratio, also referred to as the interest coverage ratio, which is 19.4x.
Amazon's debt-to-EV (enterprise value) is 1%.
Amazon's EBITDA numbers
Amazon's EBITDA fell 25% to $35.8 billion last year. Analysts are expecting the company to post EBITDA of $51.6 billion this year. Amazon stock is now changing hands at a price-to-EBITDA ratio of 48.2x.
Amazon's cash flow numbers
Amazon has $30.9 billion in cash on hand. Amazon stock is now trading at a price-to-cash-flow ratio and price-to-free-cash-flow ratio of 40.8x and 115.9x, respectively. For the past year, Amazon's EV-to-cash-flow comes in at 41.5x, while its EV-to-free-cash-flow comes in at 117.9x.