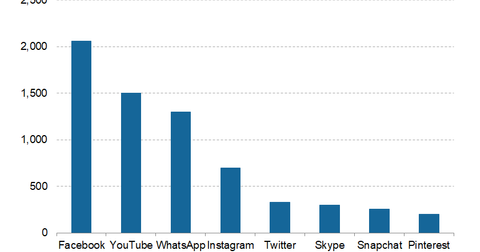 Will Twitter and Snapchat's Partnership with Fox Boost User Base?
By Sophia Nicholson

Updated
Twitter and Snap team up with Fox for World Cup coverage
Twitter (TWTR) and Snap (SNAP) have come together to provide coverage of the FIFA World Cup in 2018, which will take place in Russia from June 15 to July 15. Both Twitter and Snap will work in association with Fox Sports to showcase a 30-minute live show daily related to the FIFA World Cup.
Rachel Bonnetta will host the show and top personalities like Rob Stone, Landon Donovan, Kate Abdo, Alexi Lalas, and Fernando Fiore are slated to be part of the show.
Article continues below advertisement
Role of Twitter and Snapchat
The show will be streamed on the Twitter platform on each match day from Moscow's Red Square. The show will have match previews, recaps, and Twitter reactions in Moscow. The show updates will be available via @FOXSoccer on Twitter.
Fox Sports mentioned that it would produce a Publisher Story featuring daily updates of the tournament exclusively for Snap's messaging application, Snapchat. Snapchat will also generate "Our Stories," which cover video highlights of goals and highlights from the tournament provided by Fox Sports.
Combination of Twitter and Snapchat to attract users
Featuring World Cup updates on Twitter and Snapchat seems a significant step to attract viewers and advertisers amid growing competition from other major social networks. Both Twitter and Snapchat are struggling to expand their user base by offering more video content to their users. Twitter is going beyond news and focusing on live streaming to increase its tweet impressions.
Snapchat is, however, having a tough time attracting users. Facebook's (FB) digital platforms such as Instagram and WhatsApp have rolled out features inspired by Snapchat, and they have been able to attract more users than Snapchat.
Facebook's Instagram Stories has similar characteristics of Snapchat but has attracted a larger audience than Snapchat. The recent World Effects feature was influenced by Snap's World Lenses feature.
According to Statista, Facebook leads the social media platform with ~2.1 billion monthly active users as of September 2017. Twitter, on the other hand, had ~328.0 million monthly active accounts. The Snapchat messaging service had ~255.0 million active users on its site.