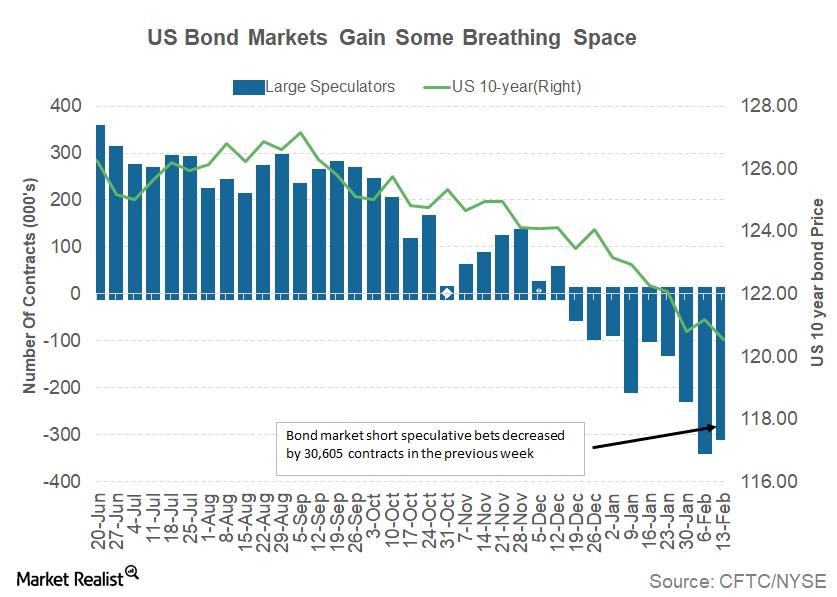 Will the Bond Market Rebound along with Equity Markets?
By Ricky Cove

Feb. 20 2018, Published 8:09 a.m. ET
Bond yields test new highs
US bond markets found some relief in the week ending February 16, as bond yields retreated from their multiyear high at the end of the week. The issue that was squeezing bond investors hasn't gone away. US inflation was reported to have increased by 0.5% in January (month-over-month) and by 2.1% as compared to January 2017. Bond yields moved higher after the report, but cooled down later, offering relief to bond investors. The inherent risk of rising yields still exists, and last week's respite could prove to be temporary at least for bond markets. The Vanguard Total Bond Market (BND) ETF, which tracks the performance of the bond markets, ended the previous week at 79.7, managing a positive close after two weeks of losses.
Article continues below advertisement
Bond market performance and speculator positions
For the week ending February 16, the ten-year yield (IEF) remained close to its multi-month high at 2.9%. The two-year yield (SHY) closed at 2.2, up by 12 basis points, and the longer-term 30-year yield (TLT) closed at 3.1%, down by three basis points. Bond yield shot up after the January inflation report with the ten-year yield hitting 2.9% on the day. However, yields dropped lower during the next two sessions.
As per the latest Commitment of Traders (or COT) report, released on February 9 by the Chicago Futures Trading Commission (or CFTC), speculator short positions decreased for the first time in five weeks. The total net bearish positions as of Tuesday, February 13, decreased by 30,605 contracts from 327,540 contracts to 296,935 contracts.
The week ahead for the bond markets                  
The focus of bond market investors is likely to be on the January FOMC meeting minutes, which are due to be released on Wednesday. Bond traders will want to see members' tone with regards to inflation (TIP) growth. If members sound confident about inflation growth, there could be a further spike in bond yields. Investors will watch the key level of a 3% yield for the ten-year bond, as a breach of this level could reignite pressure on bond markets.