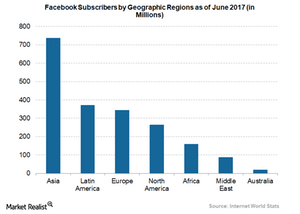 Could Facebook's News Feed Update Stop the Spread of Fake News?
By Sophia Nicholson

Updated
Facebook is making changes to its news feed
Facebook (FB) has developed a tool to prioritize news sources that Facebook users have rated as trustworthy. The social media giant's update of its news feed is intended to provide reliable news to its users. Facebook's vice president of product management, Adam Mosseri, noted that the company plans to survey its users to assess their familiarity with various news sources. This information is expected to help rank trustworthy news feed sources.
Article continues below advertisement
Facebook will first make these news feed changes in the US before rolling them out internationally. After these changes, the trustworthy publications may see an increase in their distribution on the platform. The sources that receive a low ranking by users trusted by the community may see a decrease.
Facebook attempts to make its platform more secure
Facebook (FB) has been working to free its platform of fake news. The recent step to prioritize news from trusted publishers is expected to revamp the news feed and encourage meaningful social interactions with family and friends.
Facebook previously announced significant changes to the news feed, which would show users fewer posts from different publishers, artists, celebrities, or the general public. Instead, users will see more posts from friends and family. As a result of this change, CEO Mark Zuckerberg said that engagement in news posts could drop from ~5% of the news feed to ~4%.
Rising abuse and criminal activity on the Facebook platform have hurt its user growth. The company is focusing on measures to make its platform more socially responsible.
Facebook still leads the social media platform with more than 2 billion users, well ahead of Twitter (TWTR), Snap's (SNAP) Snapchat, and Microsoft's (MSFT) Skype. Facebook has its largest subscriber base in Asia, as shown in the chart above.