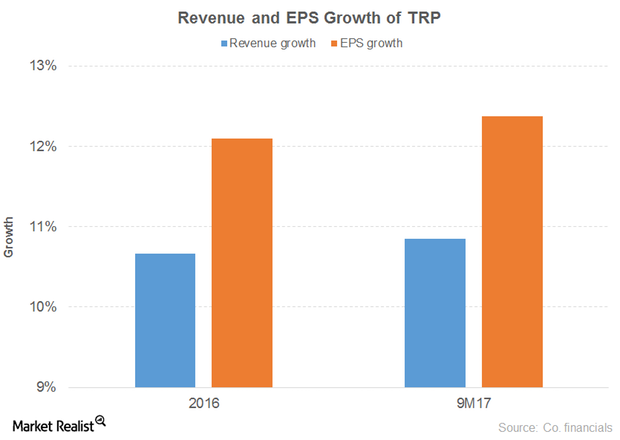 TRP's Dividends: Key Drivers
By Amanda Lawrence

Feb. 6 2018, Updated 4:05 p.m. ET
What drove revenue?
TransCanada Corporation (TRP) is an energy infrastructure company in North America. Its revenue grew 11% in both 2016 and 9M17. The Canadian Natural Gas Pipelines, U.S. Natural Gas Pipelines, Mexico Natural Gas Pipelines, and Energy segments drove growth in 2016, offset by Liquids Pipelines. Every segment drove growth in 9M17 except Energy.
Article continues below advertisement
What drove EPS?
Operating expenses decreased 14% and 10% in 2016 and 9M17, respectively. This fall was due to lower asset impairment in 2016, followed by its absence in 9M17. Plant operating costs increased in both periods. Commodity purchases resold increased in 9M17 after remaining flat in 2016. As a result, operating income grew significantly in both periods. A loss on an asset sale was recorded in 2016, followed by a gain on an asset sale in 9M17. Interest expenses rose 22% in 2016 before falling 5% in 9M17, which led to 20% and 33% growth in adjusted earnings for 2016 and 9M17, respectively. Offset by higher outstanding shares, this growth translated into 12% growth in EPS (earnings per share) for both periods.
How the dividend yield and price performed
The dividend yield for TransCanada Corporation improved slightly in 2017 after a fall in 2016 due to lower price gains in 2017 compared to 2016. Dividend growth had been impressive in both periods. The company has been unable to generate enough free cash flow to pay off its dividends.
Article continues below advertisement
Drivers
The Grand Rapids pipeline and near-term capital projects should drive the company's earnings and cash flows. The company also made a substantial recovery toward development costs for its Prince Rupert Gas Transmission project, and it decided to sell its Ontario solar portfolio. The termination of the Energy East, Eastern Mainline, and Upland projects led to an increased focus on its core businesses of natural gas pipelines, liquids pipelines, and energy. Other growth initiatives include Keystone XL and Bruce Power life extension.
Stacking up against the broad indexes
Dividend ETFs with exposure to TransCanada Corporation: