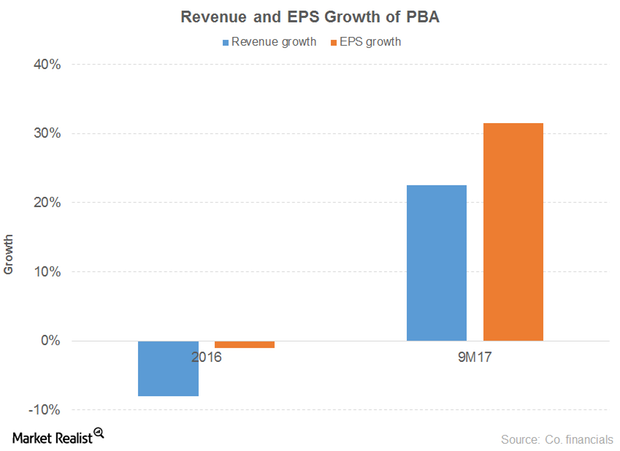 PBA's Dividends: Key Drivers
By Amanda Lawrence

Feb. 6 2018, Updated 5:35 p.m. ET
What drove revenue?
Pembina Pipeline Corporation (PBA) offers transportation and midstream services in North America. Its revenue fell 8% in 2016 before gaining 22% in 9M17. The Conventional Pipelines and Gas Services segments drove the revenue in 2016, offset by the Oil Sands & Heavy Oil and Midstream segments. Every segment drove growth in 9M17.
Article continues below advertisement
What drove EPS?
The cost of sales fell 16% in 2016 before rising 20% in 9M17. As a result, gross profit grew 16% and 27% in 2016 and 9M17, respectively. Operating expenses rose 7% and 22% in 2016 and 9M17, respectively. This rise led to 18% and 28% growth in operating income for 2016 and 9M17, respectively. Finance costs rose 115% in 2016 before losing 1% in 9M17, which led to adjusted earnings growth of 15% and 33% in 2016 and 9M17, respectively. This growth, offset by higher outstanding shares, translated into a 1% fall in 2016 EPS (earnings per share) and 32% growth in 9M17 EPS.
How dividend yields and price performed
The dividend yield has fallen in 2016 and 2017 despite growth in dividends during the periods. This fall was due to price gains, which slowed down in 2017. The company has been unable to generate enough free cash flow to pay off its dividends.
Article continues below advertisement
Drivers
2017 marked the execution of a Phase III Expansion, the third Redwater fractionator, and the Canadian Diluent Hub and acquisition of Veresen. These developments have consolidated the company's position as a leading infrastructure company in the United States. The placement of the Duvernay complex, northeast British Columbia pipeline expansion, and Altares Lateral into service, progress in its Phase IV and Phase V expansions of its pipeline infrastructure, progress in construction and commissioning of infrastructure in support of North West Redwater Partnership's refinery, and Pembina's Edmonton North Terminal and its Edmonton Delivery System could consolidate the company's position. The company is also involved in the identification of Watson Island, Prince Rupert, as a probable site for a propane export terminal.
Stacking up against the broad indexes
The PE (price-to-earnings ratio) of 40.9x and a dividend yield of 5.2% compare to a sector average PE and a dividend yield of 76.9x and 5.4%, respectively. The SPDR S&P 500 ETF (SPY) has a PE of 18.7x and a dividend yield of 1.7%. The SPDR Dow Jones Industrial Average ETF (DIA) has a PE of 17.8x and dividend yield of 1.9%.
Dividend ETFs with exposure to Pembina Pipeline Corporation
The PowerShares International Dividend Achievers (PID) has a PE of 15.1x and a dividend yield of 3.4%.