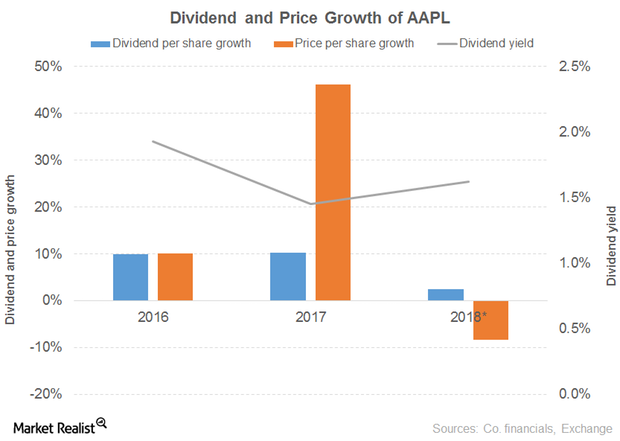 What Could Drive Apple's Dividends?
How did dividends and prices perform?
We'll discuss the dividend, price growth, net sales, and EPS projections of Apple (AAPL) in this part of the series. We discussed Apple's growth drivers in a previous part.
Apple's PE of 16.9x and dividend yield of 1.6% compares to a sector average PE and a dividend yield of 36.2x and 2.8%, respectively. The fall in dividend yield for 2017 was due to higher price gains relative to dividend growth. The dividend yield grew slightly in 2018 due to price loss. The price loss was driven by lower iPhone shipments and weak guidance compared to consensus estimates.
Article continues below advertisement
What will drive net sales and EPS growth?
Expansion of Apple Pay in Brazil, the selection of iOS as the mobile standard by Intesa Sanpaolo Bank for Italy, the selection of iPad Pro by optical retail brands like LensCrafters, and the launch of Apple at Work should further strengthen the company's presence worldwide. Apple opened its first retail store in Seoul, Korea, and will soon open a store in Austria. Net sales are projected to grow 15% to $262.7 billion in 2018. EPS has been estimated to grow 25% to $11.5.
Dividend ETFs with exposure to Apple