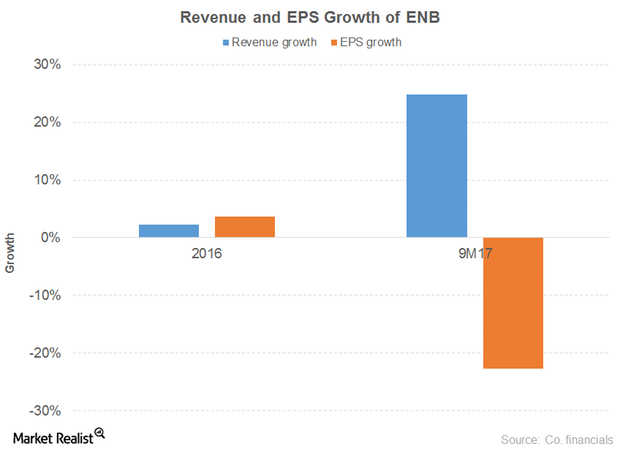 What Could Continue to Drive ENB's Dividends
By Amanda Lawrence

Feb. 6 2018, Published 2:35 p.m. ET
What drove revenue?
Enbridge (ENB) is involved in energy transportation in the United States and Canada. Revenue grew 2% in 2016, compared to 25% in 9M17. Transportation and other services drove the growth in 2016, offset by commodity sales and gas distribution sales. All of these segments fueled growth in 9M17. The Liquids Pipelines, Green Power, and Transmission segments drove growth in 2016, offset by Gas Distribution, Gas Pipelines, and Processing and Energy Services. Every segment drove growth in 9M17. Newly acquired natural gas, liquids, and utility assets from the Spectra Energy Corporation merger drove revenue for 9M17.
Article continues below advertisement
What led to the decline in EPS?
The cost of revenue fell 5% in 2016 before rising 16% in 9M17 due to the recovery of commodity costs and gas distribution costs in 2017. As a result, the gross margin grew 23% and 44% in 2016 and 9M17, respectively. Operating expenses increased 19% and 22% in 2016 and 9M17, respectively. 2016 included asset impairment expenses that translated into growth of 39% and 101% in operating income for 2016 and 9M17, respectively. Other income grew in both periods. Interest expenses decreased 2% in 2016 before rising 45% in 9M17. As a result, adjusted earnings grew 11% and 27% in 2016 and 9M17, respectively, offset by higher outstanding shares that translated into 4% growth in EPS for 2016 and a fall of 23% in 9M17.
How the dividend yield and prices performed
Enbridge's dividend yield dropped in 2016 due to price gains, offsetting the impact of dividend growth. However, the dividend yield gained momentum in 2017, driven by dividend growth and price losses. The company just managed to generate positive free cash flow in 2016, insufficient to cover its dividend payments.
Article continues below advertisement
Drivers
The restructuring of Enbridge Energy Partners, the acquisition of Midcoast Energy Partners, the Line 3 Replacement Program, investment in growth projects, the receipt of a presidential permit for the expansion of the Alberta Clipper liquids pipeline, and the intention of amalgamating Enbridge Gas Distribution and Union Gas Limited all aim to augment the company's presence.
Stacking up against the broad indexes
Dividend ETFs with exposure to Enbridge