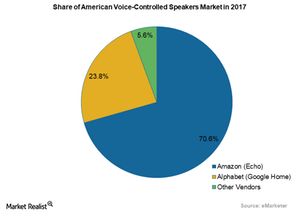 Can Apple's HomePod Keep Up with Amazon and Google?
HomePod's debut expected soon
Apple (AAPL) finally received FCC approval to launch its smart speaker, HomePod. While the Siri-based speakers are expected to launch on February 9, the company started taking preorders on January 26. Initially, the US tech giant planned to release HomePod in 2017, which is priced at $350.
Article continues below advertisement
HomePod features
Apple believes that HomePod has better features than competitors Amazon and Google. The 7-inch HomePod features six microphones and a seven-tweeter array to disperse sound. Apple's smart speaker has a 4-inch upward-facing woofer to produce distortion-free sound even at high volume levels.
HomePod's functions can be controlled by providing instructions to Siri, such as instructing Siri to play or stop any song.
HomePod's spatial awareness feature adjusts the sound automatically according to the room size. It has 1 GB RAM storage capacity and is powered by an A8 processor, which is more advanced than its competing smart speakers.
Apple to compete in the smart speaker market
Smart speakers have been gaining prominence in the US. Companies in various sectors are seeking to explore this segment, which is already dominated by e-commerce giant Amazon (AMZN) and Alphabet's (GOOGL) Google. While Amazon's Echo is powered by its digital assistant, Alexa, Google's Home is supported by its Assistant.
According to eMarketer, Amazon Echo held a smart speaker market share of 70.6% at the end of 2017, Google Home owned 23.8%, and the other vendors held a market share of 5.6%. Apple's Siri-powered HomePod speakers are expected to compete with Facebook's (FB) Portal device, which is slated to launch in the home speaker segment with a price of ~$499.