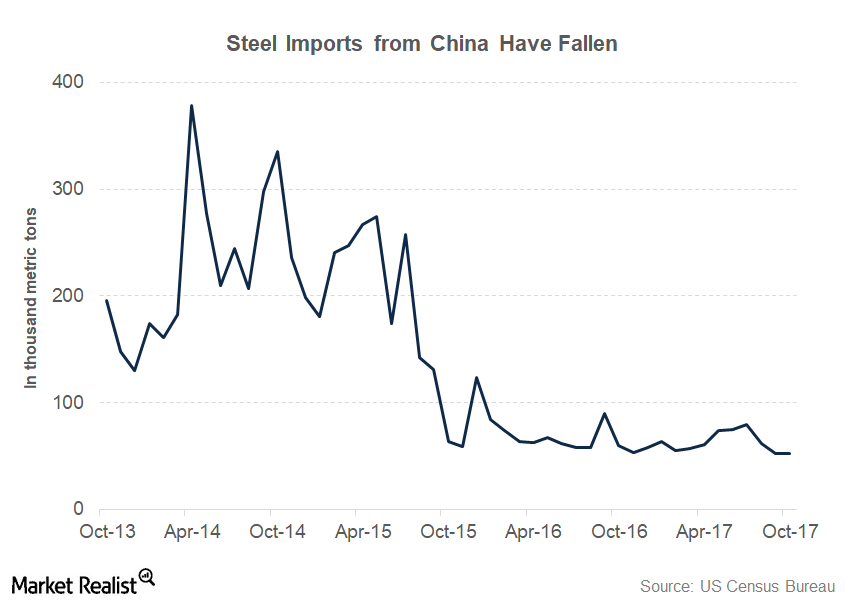 Why the US Steel Industry Wants Comprehensive Action against Imports
By Mohit Oberoi, CFA

Feb. 27 2018, Updated 2:25 p.m. ET
Steel imports
The US steel industry has been raising its voice against "unfairly traded steel products" for a long time. There have been several instances when US steel producers have managed to have stiff duties imposed on steel imports.
Thanks to a slew of trade actions, the US market is now closed to Chinese steel for many product categories, and China accounted for only about 2.0% of US steel imports last year.
Article continues below advertisement
Import flows
However, the problem with the available trade remedies has been substitution from new countries. In the most recent example, after the flat rolled cases in 2016, while we saw a decline in imports from China, there was an increase in imports from other locations.
US steel producers have alleged that after duties were slapped on Chinese cold roll coil and galvanized steel products (AKS) (STLD), the country used Vietnam as a proxy to send its steel across to the United States. Last year, the US Commerce Department slapped duties on cold roil coil and galvanized steel from Vietnam, acting on the complaints of steel makers, including U.S. Steel (X), Nucor (NUE), and ArcelorMittal (MT).
Trade remedies
Simply put, the available trade remedies somehow failed to address the US steel industry's concerns, and now the Commerce Department, under the Section 232 imports investigation ordered last year by President Trump, has submitted a comprehensive proposal to support the US steel industry.
The Commerce Department has given President Trump three options, ranging from a flat tariff to quotas. In the next articles in this series, we'll see how these recommendations could impact US steel industry. We'll begin by analyzing how a flat tariff against steel imports could impact the US steel industry.