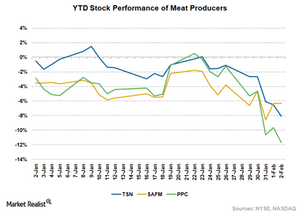 Why Stocks of Meat Producers Are Declining despite Strong Demand
By Amit Singh

Updated
Lawsuits and trade disputes
The stock prices of the nation's major meat producers are on a downtrend despite favorable market conditions. Strong demand for protein-rich food in the domestic market and increased exports have led meat producers such as Tyson Foods (TSN), Sanderson Farms (SAFM), and Pilgrim's Pride (PPC) to report stellar sales growth in 2017. An ample supply of live cattle and hogs, as well as low feed costs, boosted their bottom-line growth rates.
However, the stocks of these companies are trading in the red on a YTD (year-to-date) basis, as lawsuits and trade disputes have concerned investors.
Major food distributor Sysco Corporation (SYY) filed federal lawsuits against chicken producers including Tyson Foods, Sanderson Farms, and Pilgrim's Pride. These lawsuits alleged that these producers manipulated supply and inflated prices. 
Although these companies denied the allegations, this development concerned investors. Reuters reported that trade disputes with China, Canada, and Mexico could hurt the exports of pork, which in turn would affect the financials of meat producers.
On February 2, 2018, stocks of Tyson Foods, Sanderson Farms, and Pilgrim's Pride fell 8.1%, 6.3%, and 11.7%, respectively, on a YTD basis.
Article continues below advertisement
What analysts expect from Tyson's 1Q18 results
Tyson Foods is expected to report its fiscal 1Q18[1. fiscal 1Q18 ended December 31, 2017] results on Thursday, February 8, 2018. Analysts expect the company's top line to grow, driven by strong demand. However, analysts expect the company's earnings per share to come in at $1.50, down 5.7% on a year-over-year basis.