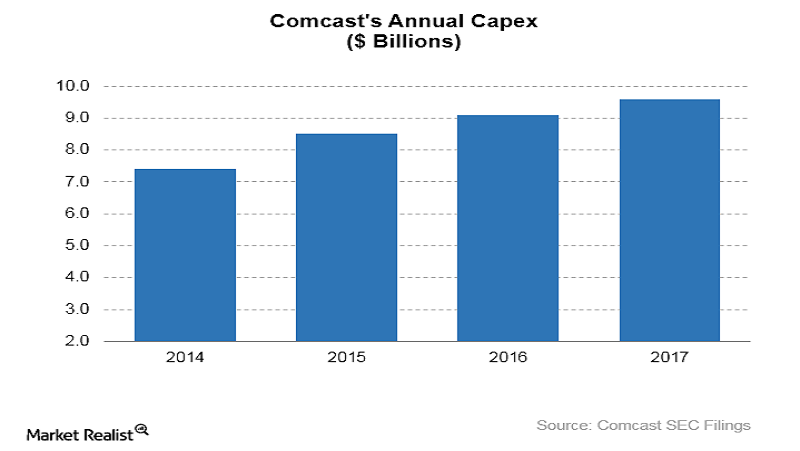 Why Comcast Is Boosting Its Capex
By Ruchi Gupta

Feb. 6 2018, Updated 4:35 p.m. ET
2017 capex rose 4.5%
Motivated by recent tax cuts, Comcast (CMCSA) is planning to double down on its infrastructure investments to capitalize on the growing demand for high-speed Internet access, thanks to the rise of online video services and the cord-cutting trend.
The next five years could see Comcast invest more than $50 billion in infrastructure development, the company estimated. The company's capital spending (or capex) was $9.6 billion in 2017, representing an increase of 4.5% over the 2016 capex.
Article continues below advertisement
Cable unit accounted for over 80% of capex
In 2017, Comcast's capex toward its cable unit was $8.0 billion, representing over 83% of its overall capex. The company said capex in the cable unit went toward projects such as increasing network capacity.
In the coming years, Comcast expects to continue making infrastructure investments aimed at improving and extending its broadband plant and capacity. It's also looking to make capital investments in its television, film, and theme park businesses.
The benefit of tax cuts
Comcast tied its decision to increase infrastructure investment to recent developments such as the reduction in corporate tax rates and the rollback of Obama-era net neutrality rules. Since these net neutrality rules came into effect in 2015, Internet service providers such as Comcast, Charter Communications (CHTR), AT&T (T), and Verizon (VZ) criticized them, claiming that the rules were obstacles to investment on their side.
As for taxes, Congress passed a law in December that lowered corporate tax rates on domestic and foreign profits. As a result of these tax cuts, Apple (AAPL) announced that it was going to spend over $30 billion in capex in the United States (SPY) over the next five years.