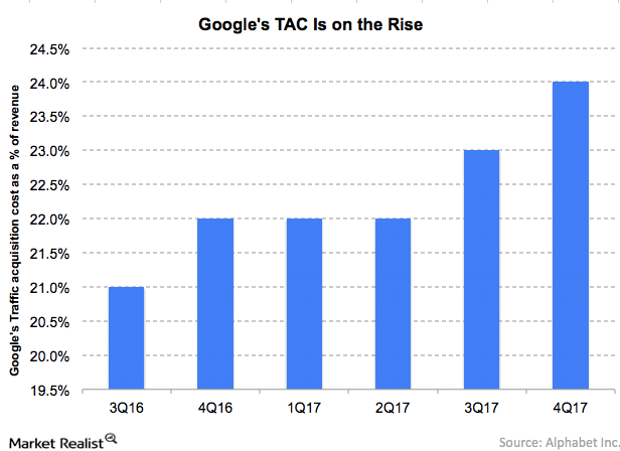 Why Alphabet Stock Fell 5%
Google posted record revenue in fiscal 4Q17
Google's parent company, Alphabet (GOOGL) (GOOG), announced its 4Q17 financial results on Thursday, February 1. The company beat revenue estimates but missed earnings estimates due to a one-time tax charge related to the new tax code. The company generated revenue of $32.3 billion in fiscal 4Q17, 24% higher than the same quarter last year. Wall Street was expecting the company's revenue to come in at $31.8 billion.
Like most other tech giants, Alphabet also logged a tax charge related to the tax code overhaul. The company logged a $9.9 billion tax charge, which meant a recorded loss of $3.0 billion in fiscal 4Q17. Excluding the effect of the tax charge, the company recorded a 28% YoY increase in profits.
Article continues below advertisement
Google's TAC is increasing
Google said clicks on its ads rose 43% YoY in fiscal 4Q17, slightly lower than the 47% growth it saw in fiscal 3Q17. The company makes a good chunk of its money when users click on the ads on top of Google's search results and those before YouTube videos. However, Google's revenue per click fell 14% YoY in fiscal 4Q17 after it fell 18% YoY in fiscal 3Q17.
Google's ad business, which dominates US digital ad money along with Facebook, makes up most of Alphabet's revenue. However, the company has been trying to diversify away from the main business by investing in several other businesses including Waymo, its autonomous vehicle business. The so-called "Other Bets" generated revenue of only $409 million in fiscal 4Q17.
Google's "other revenue" segment, which includes revenue from Google Play app and the media store, grew almost 38% in the quarter YoY, reaching $4.7 billion. However, Alphabet's stock fell nearly 5% in after-hours trading as its TAC (traffic acquisition cost) grew to 24% of revenue in fiscal 4Q17 compared to 23% in fiscal 3Q17.