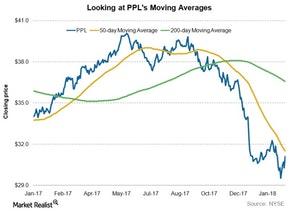 Where PPL Corporation Stock Could Go from Here
By Vineet Kulkarni

Nov. 20 2020, Updated 5:02 p.m. ET
Moving averages
PPL Corporation (PPL) stock fell below both its moving average levels in October 2017 and has been trading significantly weak since then. Presently, it's trading 1% and 15% lower than its 50-day and 200-day moving averages, respectively. Its 50-day moving average, around $31.5, could act as resistance for PPL. It's currently trading at $31.1.
When a stock price exceeds or falls below a particular moving average, it's a bullish or bearish sign, respectively.
Article continues below advertisement
Relative strength index
PPL's relative strength index seems stable at the moment, at 47.
RSI values above 70 are considered to be trading in the "overbought" zone, while values below 30 are considered to be trading in the "oversold" zone. When RSI levels are at extremes, they indicate an imminent reversal in the stock.
Short interest
The short interest in PPL stock increased by a huge 26% on January 31, according to a recent report. On January 12, the total number of shorted shares in PPL was 16.1 million, while the number increased to 20.3 million on January 31. The increased short interest indicates that more investors expect the stock to fall from its current levels.
Short interest represents the shares sold short and not yet covered back. It ultimately measures investors' anxiety.
To learn about utilities' (XLU)(IDU)(VPU) recent performance and where they might go from here, see Why Utilities Continued to Trade Weak.