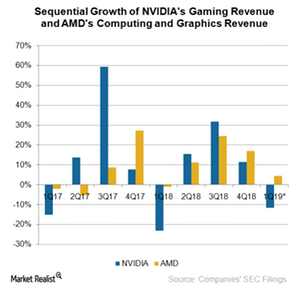 Where AMD Stands in Graphics Processing Unit Computing
By Puja Tayal

Feb. 28 2018, Updated 3:25 p.m. ET
AMD versus NVIDIA
Advanced Micro Devices (AMD) is expanding aggressively in the GPU (graphics processing unit) market. However, it faces strong competition from NVIDIA (NVDA), which is a leader in the discrete GPU space, not only in terms of technology but also market share. NVIDIA has a one-year technology advantage over AMD—the latter's Vega GPUs compete with NVIDIA's year-old Pascal GPUs.
In the PC (personal computer) gaming market, NVIDIA reported strong double-digit growth in the last three quarters. However, AMD also reported double-digit revenue growth in the computing and graphics space. As AMD does not provide graphics revenue separately, we don't know if its GPU revenue grew as quickly as NVIDIA's.
Article continues below advertisement
In the discrete GPU market, NVIDIA regained 2.1 percentage points in market share from AMD in 3Q17. Even though NVIDIA may have better resources and technological advantage over AMD, it could not regain significant market share from the latter. AMD GPUs offer a better price-to-performance ratio, which makes it a preferred GPU in the cryptocurrency and budget gaming markets.
AMD and NVIDIA in artificial intelligence
While AMD has succeeded in sustaining its market share in the gaming GPU market, it has lagged behind NVIDIA in the AI (artificial intelligence) market. NVIDIA's GPGPU (general purpose GPU) is currently leading the machine learning space—not only because of its advanced GPU but also because of its CUDA software, which makes its GPUs easy to use for various AI applications.
NVIDIA has been building CUDA software for over ten years. AMD is new in the AI space and is optimizing its GPU and ROCm (Radeon Open Compute) software for AI.
NVIDIA has even expanded its GPUs in edge computing and is developing products for smart cities, smart industries, drones, and automotive use. On the other hand, AMD has not started research in these areas, putting pressure on AMD's graphics business. Next, we'll see where the company is focusing its graphics business.